Quality car audio. Car audio Hi-Fi and Hi-End classes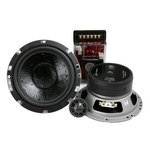 Car Acoustics middle class — a concept quite loose. Single classification automotive acoustics, in fact, exist. Therefore we call "middle class" the unit price of about $300 with a set of expensive speakers or built-in professional audio system, combining about 10 components.
Car Acoustics middle class
Many experts believe autosound lower priced audio mid-level within the more than $1000, and the top — $2500 (including installation). By and large, and the upper and lower "strip" afford the middle class.
But it should be noted that for a solid sound system of the middle class will need to buy another car amplifier sound. In Kiev, there are many shops where there is a wide range of automotive products mentioned. But the point is that the correct selection and installation of an amplifier — a procedure quite time-consuming and "fine". That's why experts autosound in Kiev (and not only here) recommend: if you have the slightest experience in installing car audio in the car — it would be better to give the job to professionals. Ill-conceived experiments with a car amplifier at best, will cause loss of time, at worst — and do not want to think about the consequences of…
With a choice of speakers issue is even more complicated — in the middle acoustic their system is much more than the budget. For the acoustic system of the middle class will have to buy a crossover — or analog electronic frequency filter, which controls the supply to the dynamics of the frequency bands needed for high-quality and powerful sound.
Setting the average of automotive acoustics in the first place requires a preliminary training car. This refers to the total noise and vibroisolation of car body. Usually, this is the first step, prior to purchase and install any PA system. Therefore, we suggest that first of all to buy a noice insulation and vibration isolation, as all the iron interior surface to be taped this special material. Isolation is required to remove extraneous overtones that occur when vibrations of air caused by a wave of sound.
Very seriously need to approach the reliability of the power wiring the car. The system of the middle class has more components than the budget, so its installation in the vehicle must be in compliance with certain rules. To a large extent it concerns the accuracy of "wiring" of wires.
Car stereo loudspeaker Hi-End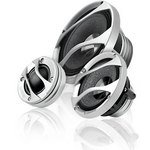 Car stereo loudspeaker Hi-End — a system of the highest class. This is not just a set of electronics for playing music, and a kind of creative and expressive technical concept to install car audio-class Hi-End. Unlike the middle class, which focuses on high-quality sound of music, acoustic systems, Hi-End professionals more emphasis on the comfort in the perception of sound. That is why the master Autosound in Kiev, on a par with the installation of high-end music system, modernize and passenger compartment. The overall goal is the desire to obtain a perfect harmony of music and comfort listeners.
main singling out quality automotive acoustic class is perfectly fine-tuning all the components of the system. Hi-End Systems are designed with the intent to sound coming from it, nowhere and drops are not distorted. Alarm has many different processes that have and strive to break its "purity", so the flow of sound on the dynamics as in what it was when leaving the preamp unit that can be directly called "technical skill". Few masters can realize this. Those who can are called "masters of car audio" — they have no price in Kiev, not in Ukraine.
Selection of all components of the speaker Hi-End class rather complicated and laborious process. In practice, internet store "130" experts with clients "makes" the system for quite a long time, and refinement details may take several days or several weeks.
Last stage of the system setup Hi-End has configuration directly under the owner of the car. Everybody has their own taste, so while listening to various musical pieces performed fine tuning.
In the online store "130" you can choose and buy a car acoustics, amplifier, subwoofer, processor, crossover, car-audio cable and set up in your car a perfect sound to travel and rest. Our experienced specialists will assemble the car sound system of any complexity and pick the best price / quality ratio, taking into account all your wishes.
Related materials: