Rating of the most popular car accessories
According to statistics, about 90% of car owners regularly spent on the purchase of a variety of automotive accessories. Of course, most of this is when you buy a new car, as in this case it is necessary to get at least a minimum set of required. But there are those who commit the purchase of various gadgets and accessories for the car regularly — once a year or once a season.
In this article we will look at the most popular and necessary for each motorist accessories that make riding in the car more comfortable and safe.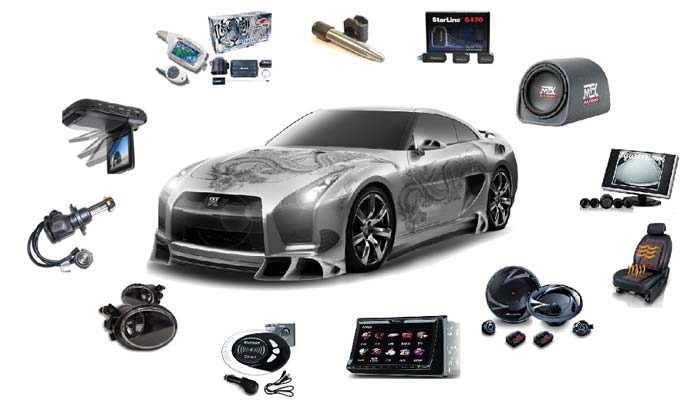 What kind of car accessories necessary for each motorist?
If we talk about the most popular accessories and gadgets for cars, the list of the most popular among our drivers include:
Video;
compressor;
car vacuum cleaner;
audio and multimedia systems;
seat covers.
Car DVR
Now it is difficult to imagine a car without a DVR. This accessory has long been a must for car owners, since it can be used to provide videofiksatsiyu everything that happens on the road. And then, if necessary records may serve as evidence in a proceeding in the event of an accident.
Manufacturers now offer a huge variety of models with different functionality, there is a classic device, the main task of which record video and keep an eye on what is happening on the road ahead of the vehicle, and more fancy and advanced devices with optional rear camera, parking mode, built-in Wi-Fi, GPS, radar detector and other useful options. Of course, the second type is more expensive, but for the comfort and safety you have to pay.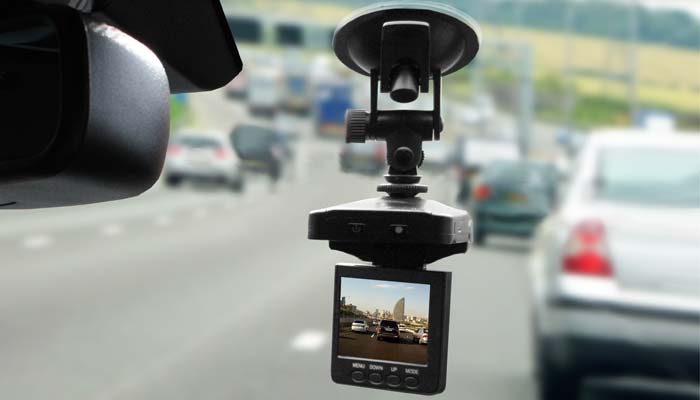 Among the main parameters that are worth watching, if you're going to buy a DVR, you can highlight the following:
presence and size of the screen — now you can find models both with built-in monitor, which allows you to watch video on the site, and without it. The latter are more compact, and often allow you to view videos on your phone by connecting the gadget wirelessly.
resolution of the video — Obviously, the higher the score, the better the image quality, but still before the purchase is better to see examples of video with a particular model, so you can understand exactly how the picture will be clear.
and supported memory card type — most of today's models work with a memory card of 10 classes and a volume of from 32 to 128 GB. There are options that support cards up to 256GB. The higher the score, the more video time can be written.
type of attachment — here it is necessary to choose what is more convenient for you specifically. Basic mounting options for DVRs: 3M adhesive tape, suction cups, magnetic mount.
dimensions — of course, than the smaller the device, the less noticeable it will be.
Additional features — These may include a built-in Wi-Fi, GPS, radar detector, shock sensors and motion, parking camera and others.
Car compressor
This is a small electrical appliance of low power and performance, designed to inflate tires. This is a very important accessory, as if a flat tire, it is necessary to solve this problem as quickly as possible, and then the compressor will be very useful. low-pressure ride on tires is not recommended, as it can be dangerous.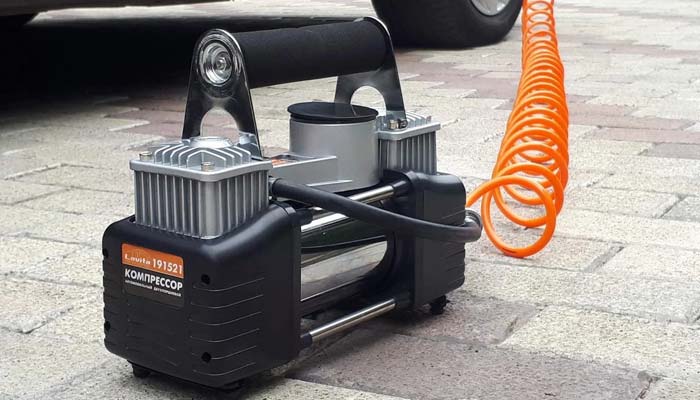 The compressor usually has a small footprint, it fits easily into a car trunk, in fact without taking up much space. That is, it can always carry with them and use as needed. It connects the device to the vehicle via a wire connector for the cigarette lighter socket or directly to the battery terminals. Many models are additionally equipped with a pressure gauge that allows you to monitor tire pressure. This is convenient, because the driver will know exactly when to stop pumping. Some manufacturers even offer compressors hitchhiking, the system automatically shuts off the air as soon as it reached the recommended value of the tire pressure.
If you choose should look at these options:
Type Power — from the cigarette lighter or battery;
maximum pressure ;
presence and type of gauge — analog or digital;
type and size of tire , which is recommended to use the compressor;
presence of additional nozzles — for pumping a bicycle tire, inflatable mattresses, etc.
Vacuum cleaners
Maintaining cleanliness in the salon — quite a challenge, since it is often something breaks down, the sand brought from the street, etc. In addition, not every driver has the time and opportunity to travel frequently for washing and spend money on cleaning the interior. That is why many prefer such accessories as car cleaners. They are compact, can quickly remove sand and crumbs from the seat. Due to its small size does not take up much space, will always be on hand to promptly eliminate pollution. Yes, and such devices are relatively not a lot, which also makes them quite popular.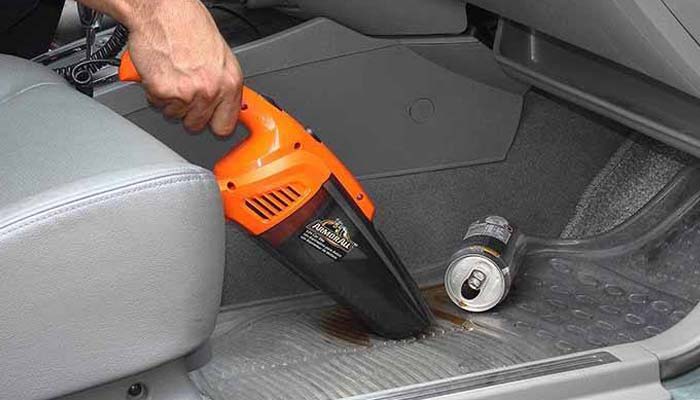 When choosing a portable vacuum cleaner for cars worth looking at these options:
Type Power — battery or cigarette lighter, the first work long and require regular recharging, but in no way limited, the latter work without time limit, but limited power cord length, it is important that it is long enough.
Power — on this parameter directly depends on the efficiency of the cleaning, the higher the power, the better.
Options — Different models may have a different number of nozzles for wool, crevices, etc.
presence of additional filters and dust collector type.
Audio and multimedia equipment
It is not always full-time car radio can meet the requirements of the automobile owner. Very often, many prefer to replace the factory head units with more powerful and modern models, which have a variety of additional functions and have the best sound.
The choice here depends on what it wants to get the motorist, recorder selection and media stations is very large. Many current models of multimedia devices are equipped with a large touch screen, supports Wi-Fi, Bluetooth, GPS navigation, internet connectivity and many more. Increasingly, radio is not just a device for playing music, but also an assistant on the road, and entertainment center.
Music fans can choose the radio with integrated DSP processor, which have a very extensive customization capabilities and sound regulation. These models allow you to create the perfect sound in the cabin, of course, provided you use high-quality acoustics.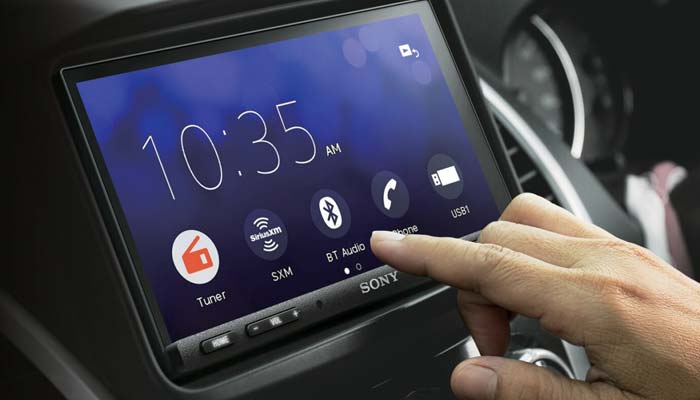 When choosing a radio for the car's worth looking at these options:
standard size — 1 or 2 DIN, this is important, because not all cars there is a possibility of installation of large devices, if space is limited ideal 1 DIN model.
built-in amplifier Power — This parameter affects the quality of sound transmission.
formats supported file.
for connection of external equipment — here it is important to look at the inputs and outputs that can be used to connect to the head unit speakers, amplifier, subwoofer, rear camera, etc.
a built-in sound processor.
size and resolution of the monitor (important for media stations) — the larger the crane and its resolution, the clearer the picture and more convenient to watch and control the system.
presence of additional features — Wi-Fi, Bluetooth, GPS, etc.
Seat cover
This is quite a popular accessory, especially for owners of cars with fabric interior, while the skin is often also in need of additional protection. Covers protect the seating surface from contamination and mechanical abrasion. They are particularly relevant to pet owners and parents with children.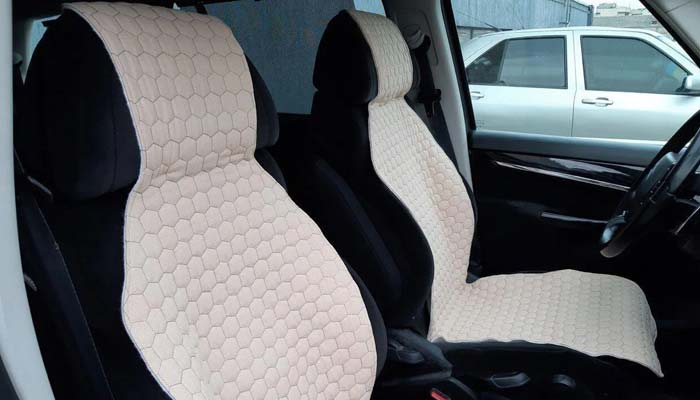 Cases vary widely. It is now easy to find the right option for size, material and color. There are even special winter version — covers heating, which is also very active in buying our drivers, because sitting on the warm seats more comfortable than on the ice. Typically, such models are connected to the cigarette lighter socket and can provide a comfortable environment for the driver and passengers in the shortest time, since heat in minutes.
We've covered the most common accessories, without which it can not do almost no modern driver. But there is a rather large list of accessories for the car, which are also used quite often and actively, they include: Parktronic and rear view camera, the motorist sets, mats, blankets on the wheel, battery chargers, kits of automotive tools, children's car seats, car refrigerators and much more.
In our online store 130.com.ua you can buy a variety of car accessories and electronics in Kiev at a good price with delivery in Ukraine.
Related materials