Specifications
| | |
| --- | --- |
| Brand: | HEYNER |
| Trade name: | CapsulaProtect 3D |
| Type: | car seat with base |
| Length : | 510 mm |
| Width: | 440 mm |
| Height: | 680 mm |
| Fixing type: | seat belt |
| Fasting of seat belts: | 5-point belt |
| Group: | ECE I (9–18 kg) |
| Coloration: | Pantera Black |
| Color: | black |
| Manufacturer: | Germany |
| Warranty / Service: | 24 months |
| Price per: | pcs |
| Brutto, package size: | 16 kg, 510 / 440 / 680 mm |
Terms of payment
You can buy baby car seat HEYNER CapsulaProtect 3D Pantera Black (795 100) in Kyiv and other cities (self-delivery or courier delivery around the city and Ukraine). Possible cashless payment with VAT, online payment by credit card Visa / MasterCard or payment for order upon receipt. With the cost of goods from 1500 UAH there is the possibility of credit programs. On some products, the store provides an installment plan without overpayments.
Сертификат

View certificate
Description baby car seat HEYNER CapsulaProtect 3D Pantera Black (795 100)
The child car seat HEYNER CapsulaProtect complies with the latest safety standards developed by the United Nations Economic Commission for Europe, and is marked with ECE 44/04. Child car seats that comply with the highest international standards of safety ECE 44/04 are indeed safe and have strong restraining properties, ensuring the safety of children when traveling in a car.
The car seat belongs to the group 1 and suitable for children weighing from 9 to 18 kg, aged from 9 months to 4 years.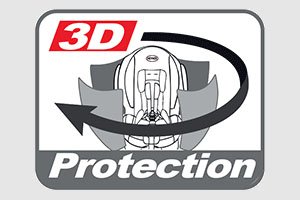 Unique 3D Design
A unique, innovative solution - a 3D-absorbing impact energy design provides the maximum level of safety for a small passenger. The system was specifically designed to dampen the impact impulse in a collision. In addition, the child will feel comfortable when driving on any roads, you can not worry about shaking.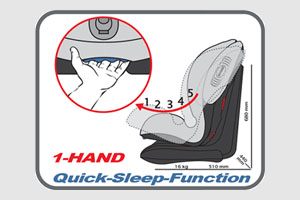 Easy position adjustment
The ergonomic shape, changeable angle of inclination of the car seat allows the child to sit or lie in the most natural position, which is essential for his still spine. Changing the angle of inclination of the car seat includes five positions "sitting or lying", the installation of which is very simple - with one hand. In addition, this model has additional removable inserts for babies, as well as shoulder pads with anti-skid function, which limit movement for extra safety.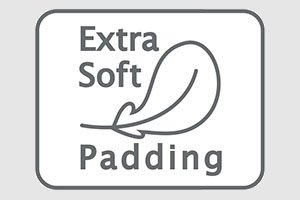 Soft, safe upholstery
A durable but soft, hypoallergenic upholstery that does not contain harmful particles, with a unique breathing function is another of the advantages of the HEYNER CapsulaProtect car seat. At the same time, the fabric absorbs moisture well, which prevents excess sweating and diaper rash, and also does not absorb extraneous odors. The cover is easily removed and erased.
The color scheme will satisfy any parent. Stylish and noble color Pantera Black (black panther) will definitely appeal to lovers of the classics and chic. Thick black upholstery car seat strikes with its chic and urban classic classics. It fits both the boy and the girl and the girl, and thanks to his versatile color, he will perfectly fit into the interior of your car. Despite the prevailing opinion that the black color was soiled, manufacturers made sure that the fabric was really practical and had dirt-repellent properties, therefore, it is enough to wipe it with a damp cloth, and minor dirt will be quickly removed. Besides the same fabric is breathable and moisture absorbing.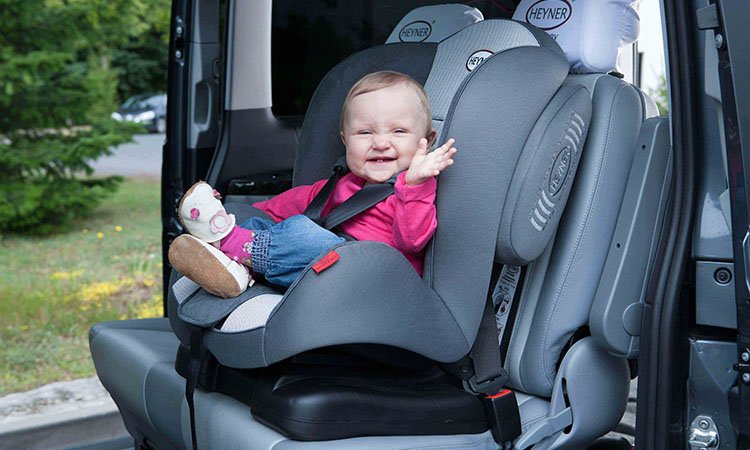 Reliable child fixation
Due to the deep landing, high sides, high-quality Sabelt lock (Italy), and also an integrated and adjustable five-point seat belt that changes four times in height, the child's posture is fixed, which allows him to be protected as much as possible in jolts.
The combination of "safety, quality, functionality, and an reasonable price" makes the car seat HEYNER CapsulaProtect more than just attractive. Carefully thought out, reliable and safe, stylish and comfortable, this car seat will serve you for a long time and will reliably protect and protect your child.
Car seat HEYNER CapsulaProtect - buy yourself peace of mind and comfort for the baby!
All products
HEYNER
—
Seat Heaters HEYNER
(6),
Cleaners HEYNER
(5),
Wiper blades HEYNER
(46),
Compressors and Pumps HEYNER
(7),
Baby seats and boosters HEYNER
(68),
Tools HEYNER
(24),
Accessories HEYNER
(2),
Accessories HEYNER
(7),
Miscellaneous HEYNER
(5),
Start-charging Equipment HEYNER
(7),
Voltage converter HEYNER
(1)
HEYNER CapsulaProtect 3D — reviews