How to choose a chain saw?
We need a tool for garden care, perform a variety of repairs or cut pieces of wood? Then you need a chainsaw. This is a very useful tool in any economy. Let's look at what are chain saws, and how to choose a chain saw that she was comfortable and last a long time?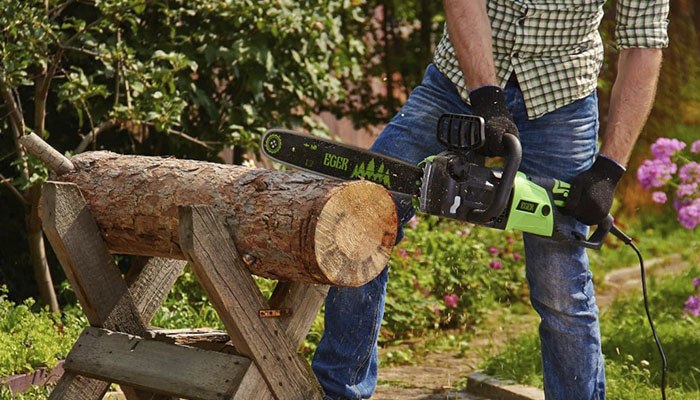 Petrol or electricity?
Many people when choosing just can not decide what to buy gasoline or electric chainsaw. Especially those who have free access to mains. If the outlet is not around, here it is suitable only petrol version.
Features of gasoline chain saws
These models are quite popular and are often used by professionals, as they have a large capacity. They are convenient and do not depend on the power supply. A very important advantage is the possibility to work in any weather, they are not afraid of the dampness and rain, since it is not connected to electricity.
autonomy;
reliability;
electrical safety;
the ability to work in any conditions;
high power, especially high performance have professional saws designed for felling commercially.
When using the saw into the atmosphere of harmful substances are allocated-the combustion products. Therefore, the use of petrol saws are not recommended indoors. They are designed to work on the street.
High level of noise and vibration during operation
Working with them requires certain skills: must be able to properly start the engine and keep track of its turnover, as well as time to carry out maintenance, oil changes, etc.
requires a special fuel mixture for operation of many devices. Its user is doing on their own, mixing gasoline and oil in the ratio specified by the manufacturer.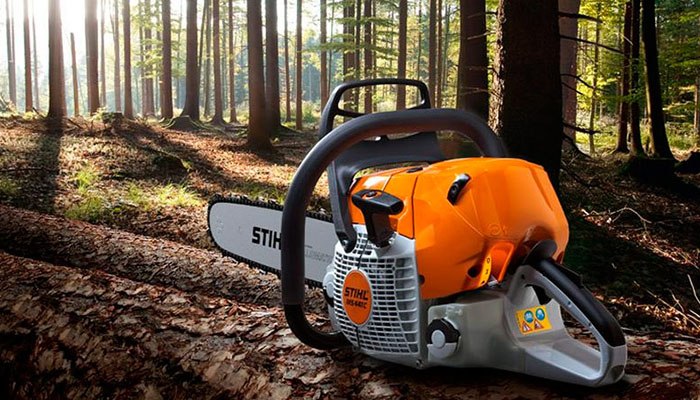 Features electric saws
Models of this type are most commonly used for domestic purposes, as they are more compact and easy to operate, have less power. They usually work stationary household power, but there are more autonomous models with a rechargeable battery. Nevertheless, the stock battery capacity is limited, so if you often or when a large volume of work, often have to pause to recharge.
Low weight
Low noise and vibration during operation
cheaper to operate, as they work on household outlet
Most models are attached to the power supply
Мay not work in humid environments
There is a risk of electric shock
Low power (compared to petrol models)
.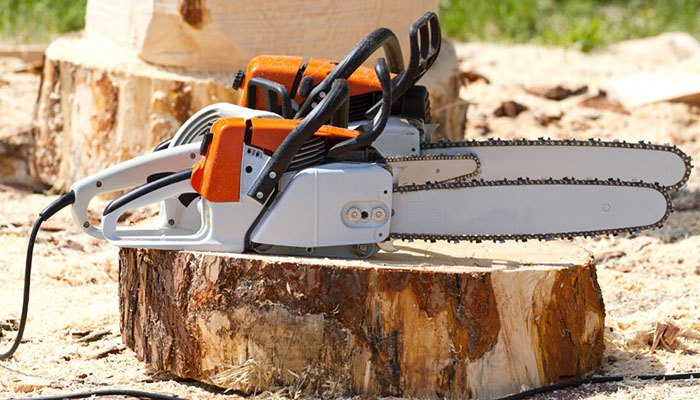 Engine Location: parallel or perpendicular
Gasoline and electric chain saws are of two types: the engine is parallel or perpendicular to the cutting direction.
Theoretically, the design with a longitudinal arrangement allows you to achieve more power with equal motor parameters, since there is no need to change the direction of the force application and the torque is transmitted to the chain through the sprocket. And the perpendicular (transverse) arrangement of the motor requires a bevel gearbox, which reduces the efficiency. In addition, models with a transverse engine are characterized by uneven weight distribution, which makes them not very convenient to use. Nevertheless, in practice, there is not much difference, since much depends on the specific model and the engineering solutions and materials used.
Now you can find in stores more often rip saws. They are more compact and convenient, but more difficult to manufacture, and therefore more expensive. This saw has a narrow body, which makes it possible to work in small spaces.
As for the engine, there is one point. Be sure to check with the seller if the saw you like has the function of locking the power button. It provides protection against accidental starting of the engine. This will help prevent injury.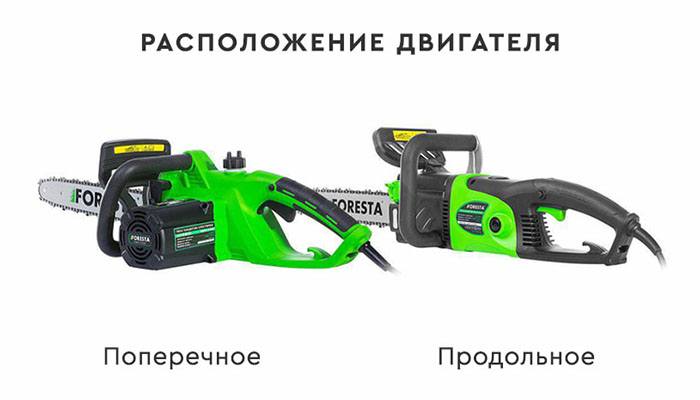 The tire and chain
The bus-part of the saw, on which the chain moves. A tire chain and sprocket together form the saw headset. A tire as the circuit over time loses its performance and should be replaced.
The bus length is selected according to the operation performed. It defines the depth of cut, and it affects the work required for the engine power.
For simple tasks-cutting small logs and pruning perfect short bus 35-38 cm They can be installed on a low-power saw -. 2 kW or up to 3 HP.
Should be chosen with options for a wider tire and more motor power for more complex tasks.
When choosing tires and chains, look at size as specified in the operating manual saws. The use of unsuitable size of components can lead to rapid failure of the tool.
Also note that the chains are: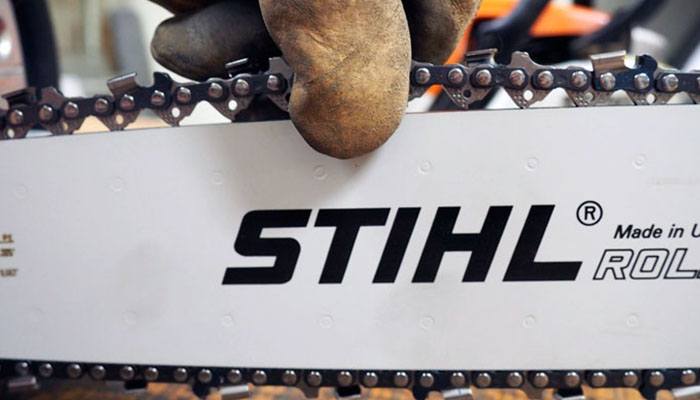 It is important to take into account when cutting along and across the fibers use a special circuit, then the result will be the highest quality.
In addition, it is very important that the chain is properly sharpened. Otherwise, during operation it will "tear" wood. Which adversely affects the speed and increases fuel consumption.
What accessories are required to work with a chain saw?
As a chain saw-this is potentially very traumatic tool, when working with it is necessary to adhere strictly to the rules and safety regulations. Therefore, you definitely need protective clothing:
points;
gloves;
special shoes.
On the glasses can not save-because when sawing wood chips fly in different directions at very high speed, eye protection must necessarily be of high quality.
Gloves are also very important, they should be comfortable and protected from cuts.
As for shoes, here is important, and the strength of the presence of a special metal cup in the toe of the boot. This design will provide adequate protection against possible foot injury.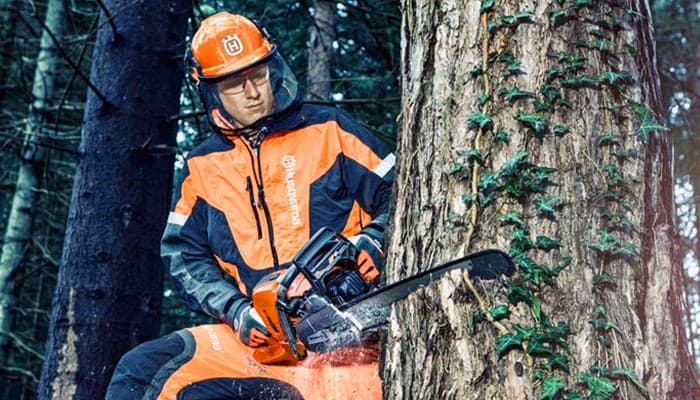 Choosing Oil for chain saws
For electric saws, everything is easy, only chain oil needed here. It is necessary to choose the type that have a manufacturer in the instruction manual of the device.
With chainsaws situation is more complicated, because you have to buy a special engine oil, which is mixed with gasoline. Experts recommend taking gasoline AI-95 with a minimum amount of additives.
When choosing an oil for the engine, guided by the requirements specified by the manufacturer. As a rule, the instructions stated in detail what type of motor oil is suitable for your saw. Also look at the quality of the lubricant, the use of counterfeit and substandard compositions may damage the saw.
With regard to the mixture, the more often than we recommend the proportion of 1 to 50, that is, per liter of engine oil takes 50 liters of gasoline. For mixing, you need a separate container.
Please note, that the mixture is not stored for a long time, so if you are not using a saw often do not do a lot at once, it is better than to mix the fresh composition.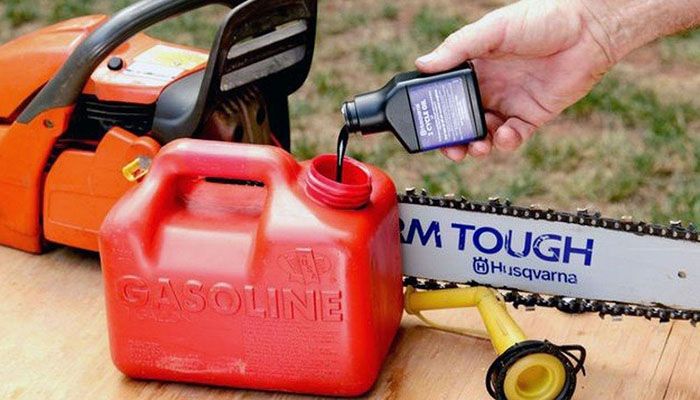 Conclusion
And the petrol and electric chain saws effective tools and cope well with their work. But they have features that determine the effectiveness of their use for different tasks. Therefore, when choosing first determine what you need a saw and what you will do. This will make the right choice.
If the site is small, and you plan Thiel saw wood and branches of trees, then choose an electric saw. This type is easier to use and requires no special preparation-for running, just press the power button. In addition, they are less expensive and impractical to overpay, as with household tasks such a tool can handle very well.
We need a professional tool that can handle a heavy load, it is better to choose a chainsaw. Also, this option is ideal for those who need the most stand-alone tool. This is important if the work will be carried out away from a stationary power source.
Online Store 130.com.ua offers a range of models. You can buy a chain saw in Kiev, Odessa and Kharkov, as well as other power tools at an attractive price with delivery in Ukraine.
Related materials