How to paint your own wheels?
Due to drive on rough roads or unpaved often suffers from the appearance of wheel rims. This is due to the fact that the surface can be scratched due to small stones and rubble.
If you do not like the look of your disc, then you can fix the problem yourself, you just paint them. This will help hide minor scratches and chips, as well as provide additional protection disks. Make it easy to own and without the help of professionals.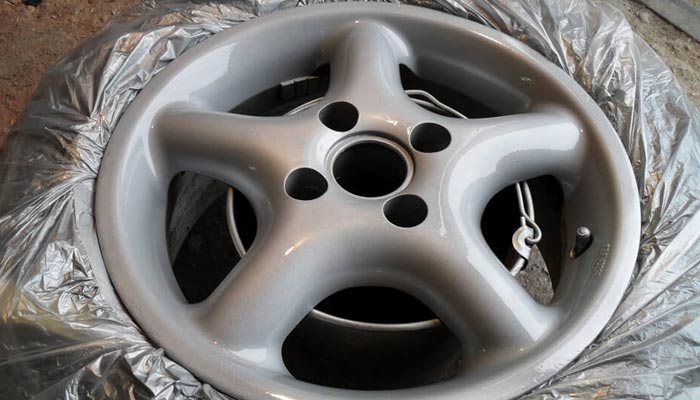 In this article we will discuss in detail how to paint the wheels independently. And the first thing we need to consider what are the types of paints and their features
Basic types of paints used to paint disks
Powder
They are applied with a special spray. Please note that pre-necessary to remove the wheel rim all the old paint particles. You can use abrasive materials. Then it is necessary to carefully align and prepare the surface for painting.
This method is quite difficult to implement, since it is necessary to have special equipment and thermal camera. And there is a similar procedure is quite expensive. Therefore, discs, this option is not suitable for self-recovery.
Acrylic
These paints are much easier to use, they are applied to any surface using conventional spray. Wheels also have to advance with the help of nazhdachki completely clean of paint, wash and dry. You can then cover them with paint. Once the paint is dry, for fixing and polishing it is recommended to cover a layer of lacquer.
To get the maximum effect is better to use acrylic paints and varnishes of the same brand. This will ensure good resistance and durability of coatings, as well as protection from corrosion.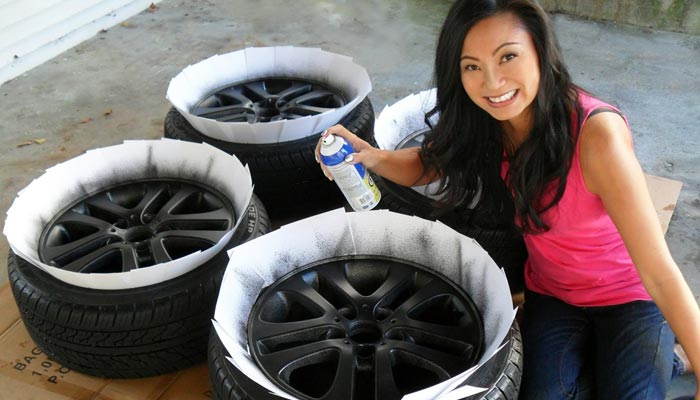 What is required to run?
If you are going to paint some kind of automotive parts, including wheels, you need different material, for example:
abrasives;
detergent and solvent;
brush with a long nap ;;
primer;
finishing putty;
paint directly itself;
lacquer.
In addition, you'll need special protection: respirator for respiratory protection, rubber gloves to protect the skin of the hands and goggles for the eyes.
How to prepare a disk and paint it?
Painting takes place in several steps:
Cleaning and surface preparation
At the beginning of discs must be cleaned of dirt. To do this, take a cloth and cleanser. Then, when all has dried, it is necessary to remove the old paint layer using a steel brush and sandpaper. Prepared car drive as a result should be perfectly clean. The surface should remain particles old paint and rust.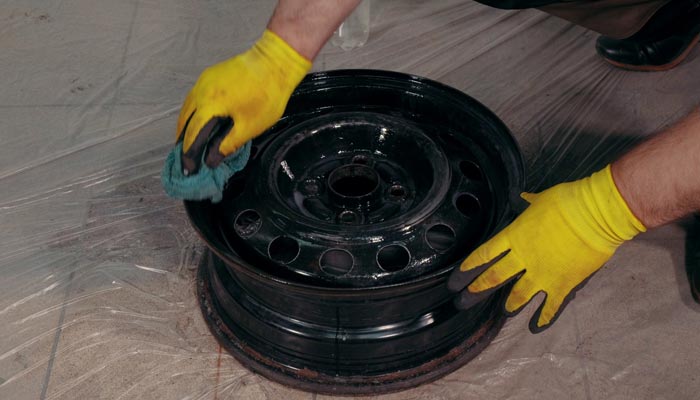 The next step involves degreasing the surface with a solvent, which can be applied typically with a cloth.
If the surface is scratched, or has chipped or otherwise damaged, it must be her zashpatlevat. With the help of automotive putty can hide small defects and to obtain a flat surface &nbsp.; For work you will need a spatula and otverditel. Shpatlevku with a spatula should be put in place, where there are damaged and spread and leveled.
After drying, the treated area must be carefully walked a fine sandpaper. This process is repeated for as long as the disk surface is smooth. To achieve a perfectly flat surface can be used with sanding disc grinders.
Primer
It is also very important stage of preparation, which should not be missed. First, on the surface applied otshpatlevannuyu solvent to degrease it. Then, after drying, is applied to primer.
To apply a primer to the surface of the disc evenly, you can use a special spray. Avoid water stains you can, if the work will be carried out on a small distance from the surface being treated. Experts recommend apply a first coat at a distance of 15-20 see.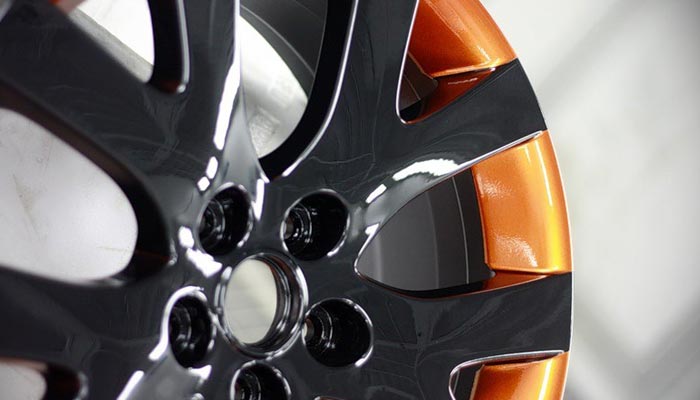 The first primer layer after the application must be given time to dry, after which the surface is treated with a soft sandpaper having grain at 600-800. Processing can be carried out both dry and using water. It is important to achieve a smooth surface without defects. Then you have to wait again until the disc is dry. Only then can you move on to the coloring.
One point on which it is necessary to pay attention, to start painting. oh room where work will be carried out, must necessarily be ventilated. If this premise you do not, it is possible to carry out painting and on the street. Before starting work, check again, the surface should be completely dry, otherwise the paint will not lie evenly.
Just painting itself
To Paint materials have a high rate of resistance to the effects of anti-corrosion experts recommend getting the primer and paint one of the firm. Dyeing process itself is not very different from the process of priming.
It is important to bear in mind that acrylic paints are toxic, so do not neglect safety rules — be sure to work in a respirator, wear gloves and goggles. These precautions can help protect yourself from paint inhalation, contact with skin or eyes.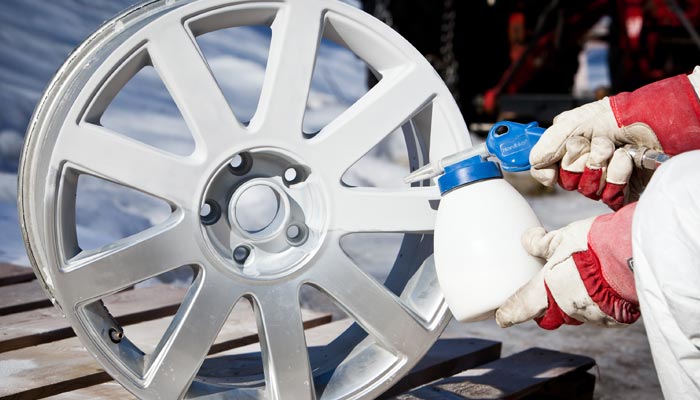 It is best to carry out the painting with the help of a compressor. To do this, pour the required amount of solvent to the paint spray gun into a special container. The mixture is mixed thoroughly and then check how it works on any object or piece of sheet metal.
Get to work, the paint must be applied evenly to the material, there is also necessary to observe the distance of about 20 cm. After the treatment, the entire surface, the paint should be allowed to dry. Only then varnished drive.
If the compressor with spray you have not, then you can paint the wheels using a conventional spray can with acrylic paint. Before starting work, the cylinder must be thoroughly shaken, and then uniformly apply the paint to the surface of the disk.
Please note that when you first applied paint small streaks may appear on the disc. Experts recommend achieving uniform staining surface printable 3 layer. This will help prevent sagging and achieve sustainable coverage.
After applying a layer of the varnish he should be allowed to dry. For complete drying may take up to a day. You can then use the polish, it will give the surface extra shine.
We hope these tips have been useful to you, following our recommendations, each motorist will be able to paint their own wheels and return them to the original appearance.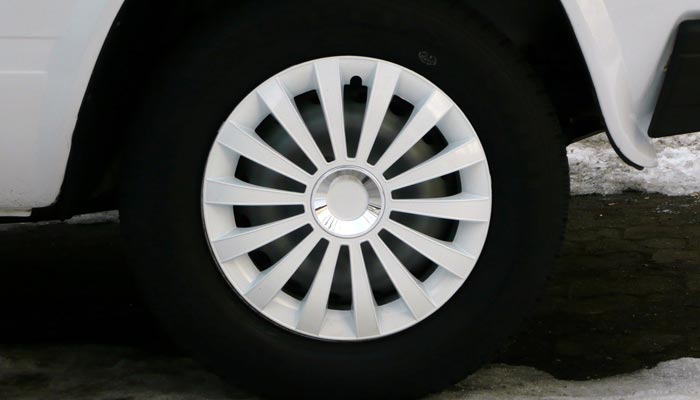 Also, do not forget that for added protection you can buy wheel covers in Kiev, Kharkov and Odessa. In our online shop offers a large selection of caps on the wheels of cars of different brands, you can pick up the original or classic design. Caps not only have a decorative function, but also protect the wheels from dirt, rust, the appearance of small scratches and chips.
Материалы по теме