Generator for a private house: an overview of the best models
If the electricity suddenly shuts down, then a generator can be saved, which can be used as a backup source of energy. The principle of operation of regenerative plants is quite simple, they are able to convert the mechanical energy that the engine produces into electrical energy. The resulting electricity can be used to connect various consumers. Such power plants are very often used in shops, medical institutions, industrial facilities and, of course, in country houses, where there is no way to connect to a fixed network, or sudden and frequent breaks are observed.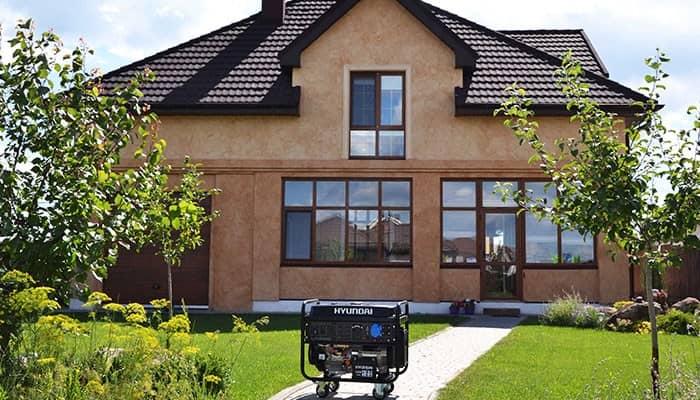 In this article we will consider four of the most relevant models of electric generators, suitable specifically for installation in areas to provide power to a country house. If we consider their main operating parameters, then units with gasoline or diesel engines capable of generating up to 10-12 kW are suitable for this purpose. Of course, the models under consideration have their own characteristics, differ in size, type of fuel and even phase. At the same time, they all have proven themselves in operation, are reliable, productive and easy to use.
Diesel power station Hyundai DHY 12000SE
This is a good, powerful generator of the famous Korean brand. It has an impressive indicator of the duration of continuous operation at one gas station-about 28 hours. It is worth saying that the rated power of the power plant is 10 kW, which is quite enough to support the work of a large number of different household consumers. This model is equipped with a 20-horsepower professional diesel engine with a large motor resource (3500 hours). Due to the fact that the casing has an effective air cooling system, the motor does not overheat. The casing design also plays the role of noise insulation and protects the internal elements of the installation from dirt and dust.
Separately, it should be noted that this diesel generator, thanks to 100% copper winding and the presence of the AVR stabilization system, produces high-quality current without voltage surges. The manufacturer also took care of a convenient and efficient start-up of the unit in cold weather, to facilitate the process there is a pre-start heating system for the candle, which guarantees quick start-up even at very low temperatures.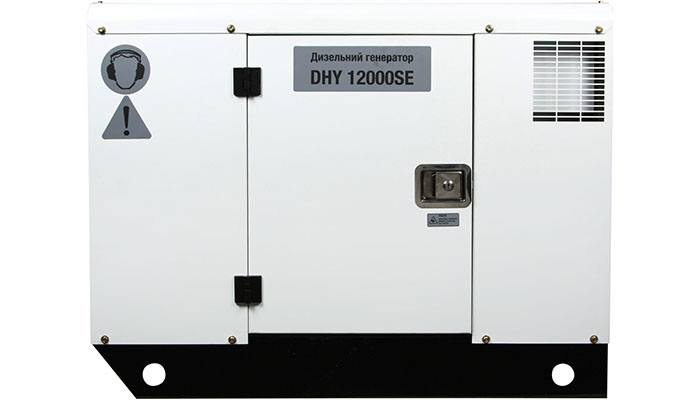 Pros:
High level of power-this generator is enough not only to solve household issues, but also for small businesses to solve production problems.
High-quality soundproof casing, which will provide the ability to install the generator near residential premises.
Ability to work on one fueling for more than a day.
Built-in AVR system that allows you to equalize the output voltage, which is very important if you need to connect modern sensitive equipment.
Effective cooling system.
Robust housing with anti-corrosion treatment.
Minuses :
Heavy weight and overall dimensions.
Briggs & Stratton Pro Max 10000T Generator
An excellent model from the famous American manufacturer Briggs & Stratton. The gas engine used in the generator-Vanguard V-Twin 21 is considered to be "eternal" and "not killed." Thanks to the use of high-quality components and reliable assembly, a long generator life and a long motor resource are achieved. The power of this model is 12 kW, this is enough for domestic needs, for example, providing power to equipment and devices used in a country house. In addition, the generator can be used at construction and repair sites, in medical ones. Shopping and entertainment facilities. However, it is worth considering that with very long use, high costs can occur, since the generatorop runs on gasoline.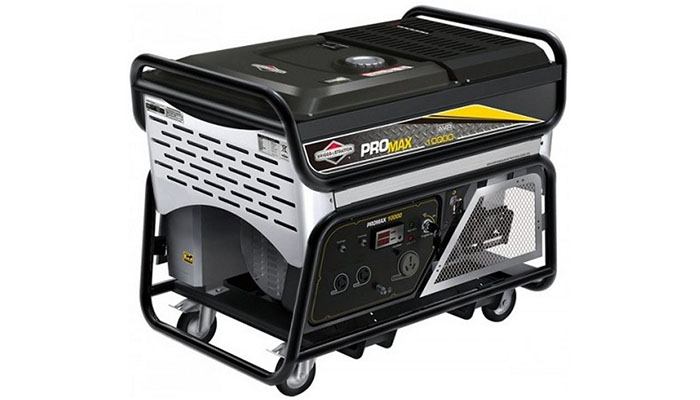 Pros:
Powerful motor with a large working resource and good protection against overheating.
Sturdy frame with anti-vibration dampers and comfortable wheels for transportation.
A spacious fuel tank of 40 liters, this amount of fuel is enough for about 10 hours of continuous operation.
Minuses :
Diesel Generator Hyundai DHY 12000LE
Another model from the Korean company Hyundai. This generator is perfect for installation in a country house, in a private home, office, shop or entertainment center. The maximum power of this installation is 10 kW. The generator is characterized by efficient and reliable operation due to the fact that it has all the necessary protective systems that extend the life of the motor and the entire system as a whole. In the event of an overload or any other emergency, there is the possibility of an emergency shutdown of the unit.
The device has an open design, the frame is durable with special dampers. Which provide vibration reduction during operation. Of course, because of this design, the generator is not recommended to be installed outdoors, as it is poorly protected from the effects of weather factors (snow, rain, wind, etc.). However, this option is simpler and more affordable.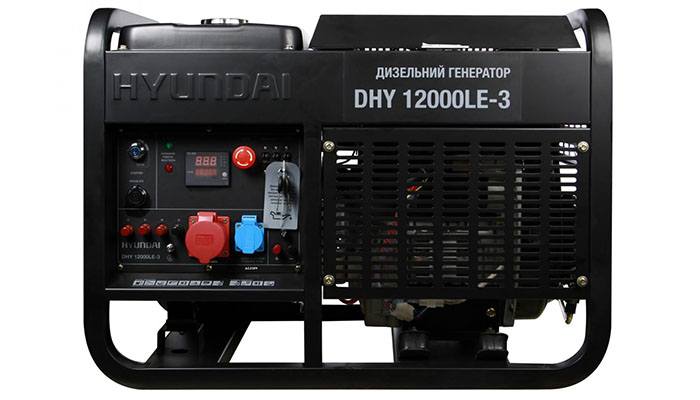 Pros:
High power, professional diesel engine, designed for continuous operation, up to 10 hours at a single gas station.
Efficient air cooling system.
The presence of a digital display, which displays the voltage, output current, frequency and hours worked.
Copper synchronous alternator.
Minuses :
Heavy weight and lack of wheels for transportation
Konner & Sohnen KS 12000E-1/3 Gasoline Generator
This is a universal phasing model from the famous German manufacturer Konner & Sohnen, which can work with equipment with an operating voltage of 220V and 380V. There is a special switch on the front panel of the generator, with its help it is very easy to change the voltage. The power in the single-phase and in the three-phase version is the same, it is 10 kW. Therefore, this is an excellent option for a country house, the unit can cope with the power supply of all necessary equipment without any problems.
It is also worth saying that the power plants of this model are equipped with a proprietary engine that has modern protection systems and a high resource. The continuous operation time at one gas station is up to 16 hours.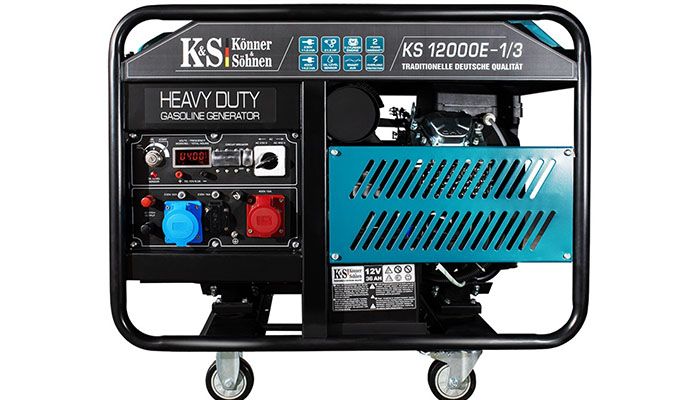 Pros:
Universal design that allows you to connect any equipment.
25 liter fuel tank.
Long non-stop work.
The presence of a special power outlet for connecting construction equipment.
High power and good performance.
Availability of an effective system of protection against overload and overheating.
Minuses :
All of the models reviewed are distinguished sufficient to ensure all available equipment and household appliances. They are reliable and capable of generating energy for a long time. Which generator to choose depends on your financial capabilities and specific tasks.
In the online store 130.com.ua you can pick up a backup power source of various capacities. Our catalog contains both compact household models that can be installed even in urban apartments, as well as large units that can cope with high loads in country houses, industrial facilities, retail outlets, etc. If you want to buy a generator in Kiev, Kharkov or Odessa, then you can do this about us at any convenient time and at the best price.
Related Content: