Types of socket heads: size, type, application features
Hand tools are used everywhere to carry out a variety of repair work, including restoration of working condition and maintenance of passenger cars. Many manufacturers offer a variety of tool kits: universal, automotive, plumbing, carpentry, etc. All of them can be composed of a variety of elements. Most often for repair of cars sets of special face heads and bits are used.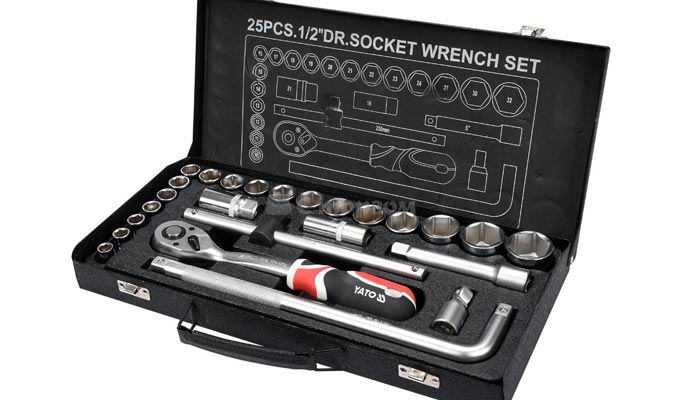 What are socet heads?
Socket is a small interchangeable nozzle that is used to fix the threaded connections by unscrewing and tightening the nuts, bolts and other fasteners having the appropriate type of head.
Suppose, according to their purpose, they perform the same function as the wrenches, but the socet heads — This is not a separate standalone tool. They can only be used as attachments in combination with special ratchets and knobs, which ensure that the heads are correctly positioned on the fastener and create the necessary force for tightening and unscrewing.
Main types of socket heads
By the number of faces
Heads can be 6 and 12-faced. 6-point heads are recommended to be used on 6-point connections with a small bolt size. They have a large angle between adjacent faces 60°. This is their main drawback, since in inconvenient places you have to use complex combinations of adapters and cardans. However, when using a ratchet, this disadvantage can be easily leveled. 12-sided socet heads are more practical and in some cases it is more convenient to use them than 6-sided ones, since they make it possible to maneuver and get access to the nut or bolt, even in close working space, since the angle between the faces makes them 30°.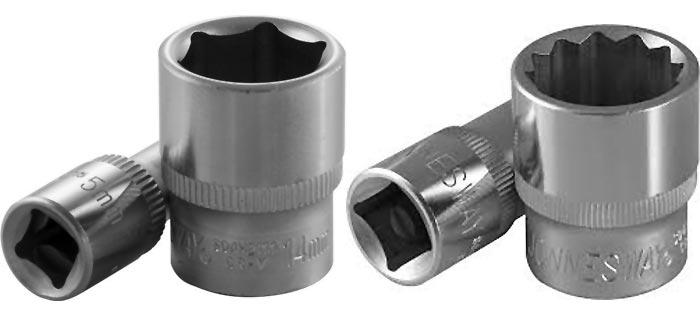 By height
The heads can be of different sizes in height: standard (used to solve common daily tasks) and elongated (capable of working with elongated connecting elements and fasteners on elongated studs). The choice in this case is determined by the goals and objectives of the motorist.
To destination
There are several varieties: standard, special, and percussion. General purpose heads (standard) are suitable for working with most types of fasteners. Special heads are used in cars for removing and replacing injectors, various sensors and other various non-standard parts for which conventional heads are not suitable. Impact drums are characterized by increased strength and are used to work with different mechanized drives, for example, pneumatic tools. They are distinguished by their ability to withstand increased loads.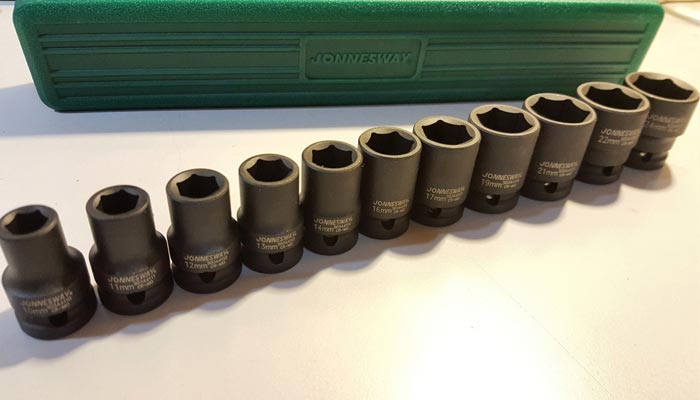 Landing square, what does this quantity mean?
Despite the differences in types and applications, all socet heads have one common parameter — connecting (landing) square. It can have several sizes. In the socet heads, as a rule, it looks like a small 4-sided hole. Thanks to him, the nozzle can be placed on rattles and other tools with a square mount, which act as a lever when using different heads.
The size of the landing square is usually always indicated in inches. There are several basic sizes: 1", 3/4", 1/2", 3/8", 1/4". Accordingly, the inch is the largest and 1/4 "is the smallest.
How to convert the size in inches to millimeters we are used to?
Sometimes it is necessary to convert the specified inch dimensions of the landing fastener into millimeters, in which case a special table can be used, which can be used to convert the values.
Table of conversion of inch sizes to metric
inches
mm.
inches
mm.
inches
mm.
inches
mm.
inches
mm.
1
25,4
2
50,8
3
76,2
4
101,6
1/8
3,2
1 1/8
28,6
2 1/8
54
3 1/8
79,4
4 1/8
104,8
1/4
6,4
1 1/4
31,8
2 1/4
57,2
3 1/4
82,6
4 1/4
108,8
3/8
9,5
1 3/8
34,9
2 3/8
60,3
3 3/8
85,7
4 3/8
111,1
1/2
12,7
1 1/2
38,1
2 1/2
63,5
3 1/2
88,9
4 1/2
114,3
5/8
15,9
1 5/8
41,3
2 5/8
66,7
3 5/8
92,1
4 5/8
117,5
3/4
19
1 3/4
44,4
2 3/4
69,8
3 3/4
95,2
4 3/4
120,6
7/8
22,2
1 7/8
47,6
2 7/8
73
3 7/8
98,4
4 7/8
123,8
If there is no such clue at hand, you can calculate it yourself. Considering that 1 inch is equal to 25.4 mm, you can simply calculate the size you want. For example, 1/2"=25.4*1: 2=12.7 mm.
How does the size of the square attachment affect the functional parameters of the socet heads?
The size of the landing square also determines the and the type of the socet head. The pattern here is simple — the larger the square, the thicker the walls will be at the heads, which means that it can withstand a greater load. That is, they and the margin of safety will be higher.
It should also be borne in mind that there is a direct link between the sizes of the heads and the landing square. The table shows the size distribution of the heads.
Dependence of the size of the socet heads on the size of their connecting square
 The size of the square in inches
 Head size in mm
Features of using heads with different fit sizes
The most versatile and most often used in car repairs are heads having a 1/2, 1/4 and 3/8 inch landing square. They have a different size, so they are used to work with different fasteners and connections:
1/4" — they are suitable for small fasteners where there is no need to put a lot of effort to tighten or loosen the bolt.
1/2" — such heads can withstand already large loads, since they have thicker walls, so they are recommended to be used for those connections where a certain force is required to unscrew and tighten the fasteners.
3/8" — they are considered universal, they are often used during automotive repairs, for example, they can be used to perform various manipulations with automobile engines.
3/4 "and 1"-these are large heads that can withstand very large loads, as they have high mechanical characteristics. They are most often used when repairing trucks, refrigerators, tractors, excavators and other special equipment. They suitable for working with large fasteners and nuts from 30 mm in size.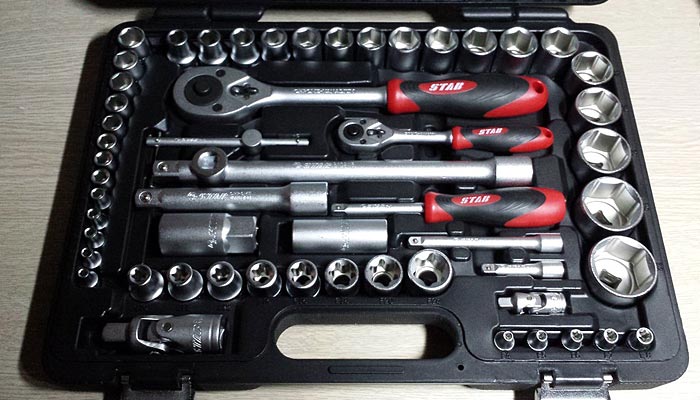 Sometimes there is a situation that the landing square of the head does not match the available ratchet or knob. A special adapter will help here. With it, you can have only one ratchet to work with different heads, it is only important to remember that the adapter can make the transition between two adjacent sizes, for example, with 3/8" by 1/4", while it is not possible to step over the size.
In the online store 130.com.ua you can always buy a set of socet heads in Kiev, Odessa and Kharkov. Our catalog is always a large selection at the best prices.