Top 3 LED automotive bulbs. Rating of LED bulbs 2019
LED lamps are quite popular among Ukrainian motorists due to their high technical data and unique functional indicators. The scope of their application is very wide: fog lights, side lights and brake lights, interior and trunk lighting, license plate lights, tuning, unusual design solutions and much more. Bulbs of this type provide a bright luminous flux, while not dazzling drivers of oncoming cars.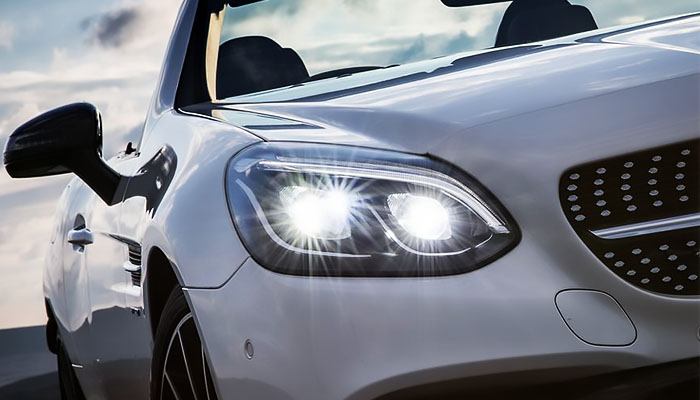 Among the main advantages of LEDs, one can note a long service life (during operation they hardly heat up, which allows them to work longer than analogs), bright and saturated light flux (their brightness is noticeably higher than most analogs), fast ignition (they do not need much time to reach its maximum brightness), high efficiency (with fairly low power consumption, LEDs provide greater light output).
The offer of optics for cars is now extremely diverse and extensive, therefore, especially for you, we have selected the TOP-3 of the most popular LED automotive lamps. It includes devices of different brands that have proven themselves among the buyers of our store. The following sets of LED bulbs are in our TOP:
Baxster S1 H4 H/L 5000K 4000 LM.
OLLO 8G H1 2x3000 LM.
MLux LED Red Line H7 6000K.
Baxster S1 H4 H/L 5000K 4000 LM LED Headlight Bulb Kit
Baxster S1 H4 LED bulbs have very good light performance, ways to give out 70% more light than halogen bulbs. They are intended for installation in headlamps, including fog lights. Thanks to the high-quality execution and use of modern technologies and reliable materials, they are able to work for a long time, do not overheat, and are resistant to temperature extremes and strong vibrations. In the manufacture of these automotive LED lamps, only proven substances and materials that are completely safe for humans and the environment are used, which makes their use environmentally friendly.
Features of these LED lamps:
Have a standard H4 base.
The casing is made of high-strength aircraft aluminum.
Provide high light output and a bright, stable glow without flickering.
Oncoming cars do not blind due to a well-balanced cut-off border.
The glow temperature is 5000K, that is, the lamps give out a very nice, soft white light.
Power of a light stream: 4000 Lm.
Service life: 30,000 hours.
Wide range of operating temperatures: from -40°C to + 80C°.
OLLO 8G H1 2x3000 LM LED fog lamp kit
OLLO 8G H1 LED bulbs are designed for headlights-these are excellent fog lamps with good performance. They provide a bright glow without flicker, while not blinding drivers passing oncoming cars. In their manufacture only high-quality, durable and durable materials are used. This series of automotive LED bulbs has a special tube for heat dissipation, this helps to ensure that the bulbs do not heat up even after prolonged use, which means they serve more. Thanks to a strong hermetic casing, they are reliably protected from penetration of fine dust and moisture. They are suitable for use in all weather conditions, tolerate temperature extremes.
Advantages of LED lamps of this brand:
Have a standard H1 base.
The casing is made of aluminum A380.
Power of a light stream: 6000 Lm.
Lamps have a total glow temperature of up to 6000K, that is, they give out a glow in a white spectrum.
Have a moisture protection class-IP67.
Service life: up to 30,000 hours.
Wide range of operating temperatures: from -40°C to + 80C°.
MLux LED Red Line H7 6000K LED Car Lamp Kit
LED lamps MLux Red Line H7 is one of the latest developments of Mlux. They are designed for installation in high and low beam headlamps. During their creation, the most advanced technologies were used, for example, they installed high-class Bridgelux CSP chips manufactured in the USA and having increased light flux. Lamps can be installed on cars of various brands.
The lamp housing is made of light but durable aluminum alloy with a copper substrate and thermal grease, which qualitatively improves heat dissipation. Thanks to the use of a special active cooling system with a radiator and an integrated cooler, fast heat transfer is ensured, which prevents the bulbs from overheating, which means that they can be operated at their full capacity. It is also worth noting the tightness of the housing, which protects the structure from moisture and dust, so this LED lamp can tolerate temperature extremes and can be used in aggressive and extreme environmental conditions.
Thanks to the presence of a voltage controller and a unique intelligent temperature control system in the chip, protection against short circuit, voltage drop and polarity reversal is guaranteed.
Among the features of these lamps can be distinguished:
Have a standard H7 base.
Durable aluminum housing.
The color temperature is 6000K, that is, these lamps give a cold white color, very close to daylight.
Light output: 4450 lm
Do not blind drivers of oncoming cars due to the even cut-off border.
CAN-BUS support is provided.
An active cooling system is used in the form of a cooler and a radiator.
Have a moisture protection class-IP67.
Service life: up to 50,000 hours.
Wide range of operating temperatures: from -40°C to + 60C°.
Conclusion
Summing up, we can safely say that all the LED lamps presented in the top are distinguished by excellent functional parameters and long-term operation. At the same time:
If you need good and inexpensive foglights with soft light, then you should choose the Baxster S1 H4 H/L 5000K 4000 LM .
If you are looking for more powerful foglights with the ability to change light temperature, then it is better to take OLLO 8G H1 2x3000 LM .
As a low and high beam lamp with a powerful light beam, the MLux LED Red Line H7 6000K is ideal.
Materials on the topic