Specifications
| | |
| --- | --- |
| Brand: | VIAIR |
| Trade name: | (10005) |
| Type: | compressor station |
| Rated voltage: | 12 V |
| Maximum power usage: | 28 A |
| Maximum pressure: | 150 psi |
| Performance: | 74 lmp L |
| Length of the hose: | 10,5 m |
| Note: | Receiver volume, l: 9 |
| Manufacturer: | China |
| Warranty / Service: | 12 months |
| Price per: | set |
Terms of payment
You can buy air Station VIAIR (10005) in Kyiv and other cities (self-delivery or courier delivery around the city and Ukraine). Possible cashless payment with VAT, online payment by credit card Visa / MasterCard or payment for order upon receipt. With the cost of goods from 1500 UAH there is the possibility of credit programs. On some products, the store provides an installment plan without overpayments.
Description air Station VIAIR (10005)
High-quality and efficient tire inflation
Compressor station with a receiver VIAIR (10005) – a complete solution that consists of all the necessary components for high-quality and efficient operation. The kit includes all components for work with high performance and speed.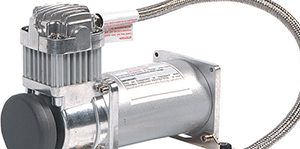 Increased power
The compressor operates using a permanent magnet motor. At the same time, the cycle of its operation is 33% with a pressure of 7 bar, the maximum allowable pressure is 10 bar, thus creating an air flow of 72 liters per minute. The maximum indicators of the current consumed by the device – 32 A, operating from 12-volt voltage.
Design features
For greater ease of use, the compressor is completed with a 9.4 liter receiver, as well as a backlit manometer. Thus, the user can find out the necessary tire pressure, turn off the device in advance when he has completed his work.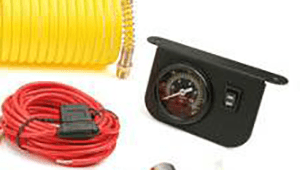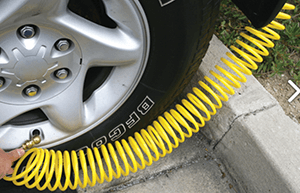 High operational safety
The compressor is made with an automatic system that prevents overheating of the system. In addition, a protective pneumatic valve is equipped here. The hose of the device provides more safety during use; it is made using stainless steel braid.
Complete set:
— 2.5 gallon receiver (about 9 liters);
— VIAIR 400C compressor;
— 35 feet (about 10.5 m) air hose;
— calibration instrument panel;
— pressure sensor with relay;
— a reducer from 1/8» to 1/4";
— 1/4» 175 PSI safety valve;
— 1/4» drain cock;
— 1/4» compression fitting (3 pieces);
— 20 feet (about 6m) of 12-Ga wire;
— couplings, electrical connectors and other accessories.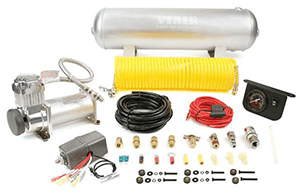 VIAIR -10005 — reviews