Specifications
| | |
| --- | --- |
| Brand: | Igloo |
| Trade name: | PM GRIPPER 16 |
| Type: | thermo bag |
| Length : | 270 mm |
| Width: | 230 mm |
| Height: | 320 mm |
| Size: | 10 L |
| Note: | Preservation of temperature up to: 12 h |
| Manufacturer: | USA |
| Warranty / Service: | 12 months |
| Price per: | pcs |
Terms of payment
You can buy thermobag Igloo PM GRIPPER 16 10 l (342236178994) red in Kyiv and other cities (self-delivery or courier delivery around the city and Ukraine). Possible cashless payment with VAT, online payment by credit card Visa / MasterCard or payment for order upon receipt. With the cost of goods from 1500 UAH there is the possibility of credit programs. On some products, the store provides an installment plan without overpayments.
Description thermobag Igloo PM GRIPPER 16 10 l (342236178994) red
The compact IGLOO Playmate Gripper 16 thermo bag of bright red color is made in the original design. This model has a volume of 10 liters. It is distinguished by its functionality and excellent thermal insulation, it can be stored in pre-cooled or frozen foods for a very long time. This will avoid their premature spoilage. Bags have a convenient carrying handle, are eco-friendly and safe for products.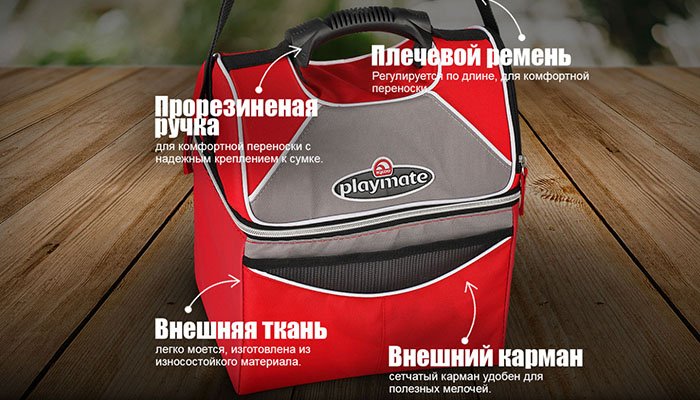 Convenience and practicality
IGLOO insulated bags are indispensable for lack of access to the power grid. This is an excellent solution if you are going on a long journey or just have to go on a long journey by car it is very important to always have a supply of fresh and healthy food with you.

Multilayer Insulation
The bag is able to keep low temperatures inside for a very long time even in extreme heat due to the use of a unique proprietary multilayer insulation technology.

Antibacterial Coverage
Additionally, the internal surface is treated with a special anti-bacterial composition, which ensures not only good preservation of products, but and their full storage.

Two sections
This model has two sections-the main and additional in the upper part, separated by a grid. In addition, there is convenient side access to top mesh pocket.

100% tightness
All the materials used in the production of these bags are very reliable and do not pass moisture, which, together with the hermetic processing of the seams with 100%, protects the contents from ingress of water.

Extra pockets
The design provides several additional pockets for storing small items and various accessories. It is very convenient and practical, makes the bag as functional as possible and comfortable in operation.

Adjustable belt
There is also a comfortable, adjustable length shoulder strap with a soft, anti-slip cushion. It makes it much easier to carry and makes it as comfortable as possible in any conditions.
Igloo PM GRIPPER 16 — reviews