Specifications
| | |
| --- | --- |
| Brand: | Kicx |
| Trade name: | Gorilla Bass GB-8N (4 Ohm) |
| Model line-up: | Year 2019 |
| Pattern: | round |
| Type: | midbass (woofer) |
| Height: | 95 mm |
| Type acoustic: | coaxial |
| Main speaker dimensions: | 204 mm |
| Rated power (4 Ohm): | 150 W |
| Maximum power: | 300 W |
| Impedance: | 4 Ohm |
| Sensitivity: | 101 dB |
| Frequency range from: | 80 Hz |
| Frequency range up to: | 10500 Hz |
| Warranty / Service: | 12 months |
| Price per: | pcs |
Terms of payment
You can buy car speaker Kicx Gorilla Bass GB-8N (4 Ohm) in Kyiv and other cities (self-delivery or courier delivery around the city and Ukraine). Possible cashless payment with VAT, online payment by credit card Visa / MasterCard or payment for order upon receipt. With the cost of goods from 1500 UAH there is the possibility of credit programs. On some products, the store provides an installment plan without overpayments.
Description car speaker Kicx Gorilla Bass GB-8N (4 Ohm)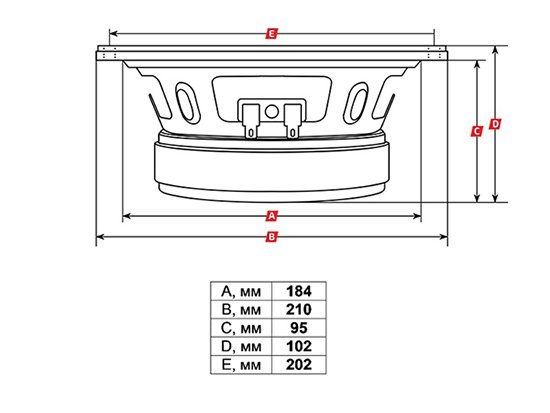 Featuresи
Car speakers Gorilla Bass GB-8N differs from other models in its excellent performance and high-quality sound reproduction. The speaker will complement the sound of music with low frequencies and deep bass. During a long service life, the system will not be damaged due to durable high-quality materials. Midbass has a classic design that will fit most car interiors, thanks to the perfect color scheme. Acoustics can be easily installed in special regular places of car doors and connected to a radio system or an external amplifier. During installation, the diameter parameters are extremely important, which is 185 mm, and the installation depth is 95 mm.
Specifications
The high output power of car speakers is confirmed by its technical characteristics. The frequency range ranges from 80 to 10500 Hz. The rated power level of the RMS speaker is 150 W, which will provide a long time the pleasure of listening to music without distortion. The parameters of the maximum declared power reach 300 watts. The sensitivity level is 101 dB. In this regard, the potential of this acoustics can be revealed by connecting an external sound amplifier.
Materials of manufacture
Midbass is equipped with a stamped 8-inch (200 mm) round basket, which is resistant to the occurrence of resonances. The diffuser is made of pressed cellulose with a universal wet-protective coating. Thanks to the material, the accuracy of sound reproduction of musical compositions is increased. Ferrite magnet has excellent density and resistance to damage. The structure includes a 1.5-inch voice coil with a nominal electrical resistance of 4 ohms. These technical indicators are extremely important when coordinating the operation of the amplifier and speaker loads.
Kicx Gorilla Bass GB-8N (4 Ohm) — reviews