Benefits of installing a seat heater in a car
Manufacturers often equip their cars with such a useful option as seat heating. And this is no longer a fashionable novelty, but a practical and necessary element. The heating makes it possible in winter, even in very severe frost, to make any trip as comfortable as possible. If this is not provided for in the standard equipment of the vehicle, then the heating can be installed independently. Car shops offer a very large selection of a wide variety of options that are easy to install and provide efficient heating. Let's look at the main types of car seat heating and the benefits that their use provides.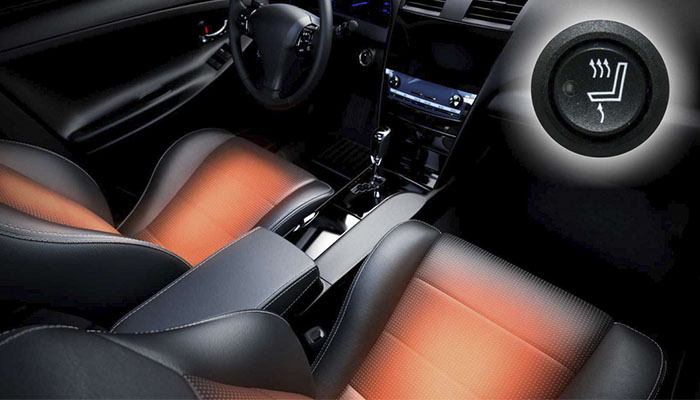 What seat heaters are there?
There are several heating options for car seats, which differ primarily in external design and installation method. There are two main varieties:
Cases & Wraps
This is a fairly simple and affordable option. Convenience lies in the fact that it is enough to fix them from above on the surface of the seat, to fix and connect to the on-board network through the cigarette lighter socket and the device is completely ready for operation. No additional manipulations are required. But this is also the lack of heated wraps, if you fix it weakly, it can fidget and shift during the ride.
Built-in heater
This type is installed under the upholstery of the chair and outwardly completely invisible. They are characterized by great operating comfort, since they are constantly inside the seat, they do not need to be removed for the summer, they are fed directly from the on-board network, that is, the cigarette lighter socket remains free. But we must take into account the fact that such heaters are more expensive than wraps and require complex manipulations during installation-it is best to entrust the installation to professional electricians.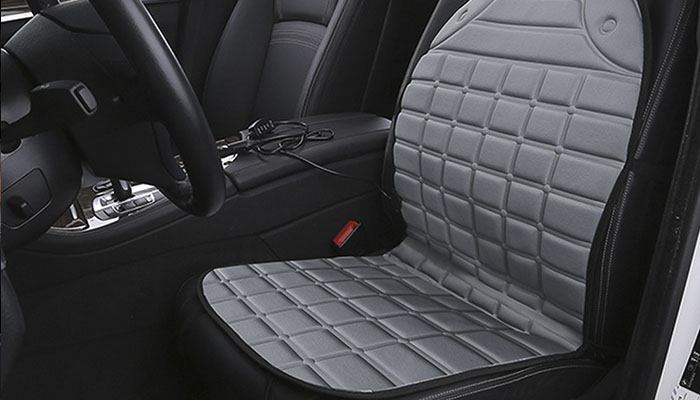 Key benefits of installing a seat heater
The purpose of using heated seats for car seats is to provide the driver with the most comfortable conditions since the cold season. Everyone knows how unpleasant it is to get into a car's interior, frozen and completely cooled overnight. And they cope perfectly with this task. The heating heats up in a matter of minutes and the driver can immediately sit on a warm seat.
Of course, this is not the only plus from using such devices, there are several main points:
All modern models of seat heating are very easy to operate.
Some models have several temperature modes at once, which allows you to configure them taking into account weather conditions and driver preferences.
Low energy consumption. You can not be afraid that the heating will quickly plant the battery. Many models have an automatic shutdown system when the engine is off, that is, when idle, they do not consume anything.
These devices protect against seasonal diseases, as they prevent freezing. In particular, if the driver sits on a warm seat rather than an ice seat, then the risk of a cold is reduced.
In addition to the main function of providing comfort, seat heating also has some physio therapeutic effect. For example, their use has a beneficial effect on health if a person suffers from radiculitis, various sprains and other diseases in which it is recommended to warm the affected areas.
What to look for when choosing a seat heater in a car?
If you are going to buy a heater seats in the car, then when choosing a model it is important to consider several parameters:
When buying embedded options, be sure to pay attention to whether the heating has moisture protection. There is always a chance that you or your children will spill something, which means that liquid can't be ruled out. And it is important that the heating can withstand this, and not have to change it.
When choosing among external heaters, first of all, look at the material and the reliability of fastening. It is important that the cloak does not move out and can withstand prolonged daily use. In this case, the cover is more preferable, as it is fully worn on the chair, repeating its shape.
If you plan to use two heaters at the same time, specify the power consumption in advance, of course the less the better. This indicator must not exceed the set limit so that the fuse in the cigarette lighter power supply circuit does not blow out.
Well, if the model has several heating modes. This feature provides maximum comfort for the back and also protects the battery from premature discharge: at the smallest level of heating, energy consumption is negligible.
Another very useful feature is the automatic shutdown of heating when the ignition is turned off. This makes it possible to save the battery and not to put it "to zero", if suddenly the driver forgets to turn off the seat heating, leaving the car.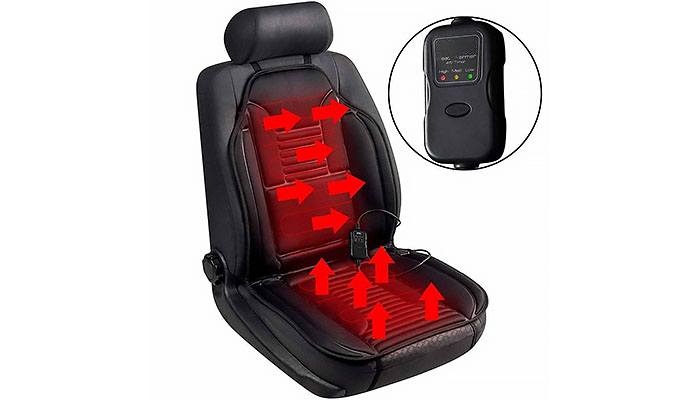 In addition to the heating itself, if you opted for a cape, you should also take care of purchasing a special splitter for the cigarette lighter socket. This is a small adapter that will allow you to connect several electrical appliances to the cigarette lighter simultaneously. For example, it is very convenient if you use just two heaters in the front seats.
As you can see, it is not difficult to choose a heater for the car seat, the main thing is to think in advance which option is more suitable for you: a cape or a built-in one, and decide on the main technical characteristics. The online store 130.com.ua offers to buy seat warmers of various types at very competitive prices. Get ready for winter in advance!
Related Content