Features and Benefits of Installing Parking Radar
Many drivers in the modern world find it difficult to do without different equipment for a car that makes driving, parking or reversing safer and more comfortable. One of these devices are parktronics.
Parking radars are a great solution for installation on cars, they can warn of an obstacle during parking time, thereby ensuring safe movement on the parking lot and integrity of the rear bumper. In in this case, not is about the next car or curb, but about the presence on the surface of pins made of metal, stones, animals or other difficult to distinguish objects. Therefore, installing such systems on cars for many drivers is important and very necessary.
The principle of the parking sensors
The equipment consists of a display and sensors in different quantities, it depends on the selected set and, accordingly, its cost. budget models include 2-6 sensors, more expensive-8.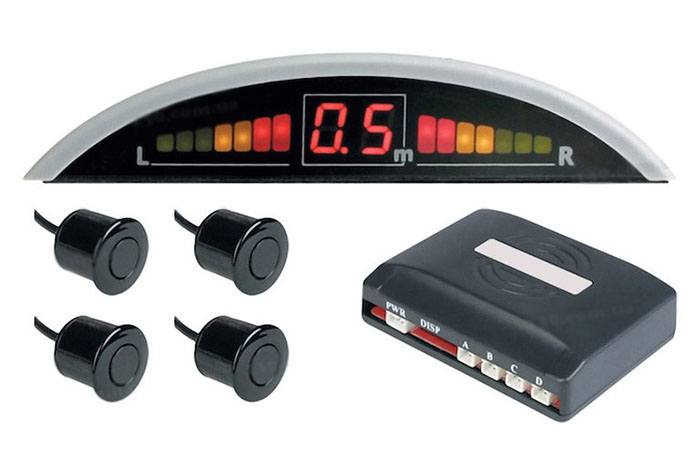 The device's operating principle is as follows:
Sensors send a notification signal, reflected from oncoming obstacles;
calculates the time of the return signal, and thus, the distance to the barrier is calculated;
This is displayed on the device display.
There are options that are able to identify an obstacle and when approaching they begin to give a signal of greater intensity and frequency. Others are not able to only quickly determine the obstacle, but and bring to the screen a video image, information about the distance to it. In addition, such equipment is able to diagnose sensors on the presence of faults, providing accurate identification of obstacles.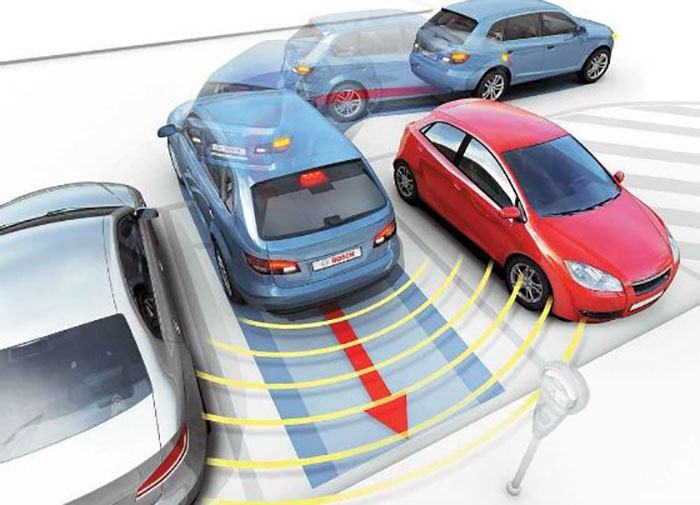 Types and features of installation of parking radar
There are the following types of parking systems-rear, front and combined. Each of them has its own peculiarities of use and installation.
1. Rear parking sensors are the most popular options for installation, their sensors are installed on the rear bumper cars. Optimally installed 4 sensors, they allow more accurate and clearly carry out a space scan and an assessment of the level of danger. Mounting this number of sensors will contribute to the detection of obstacles at a distance of 2m.
Such systems are powered by connecting wires to lanterns located at the back. Thus, the sensors are activated immediately in the time of the beginning of the reverse movement.
2. Front parking sensors have a special connector that can connect equipment with a high-speed sensor. He also able to disable parking radar when the speed is less than 20 km/h. If necessary, these systems are equipped with a sensitivity system that can be independently adjusted to trigger at the required distance.
Some devices operate at a distance, even in 80cm, they need to be connected to the wires that activate brake lights. Thus, the sensors will be activated when braking.
3. Combined parking systems are equipped with a main control unit, equipped with an increased number of sensors, there will be 8 of them 8. The installation is carried out so that the front and rear parts are fitted with 4 fixtures. Such a system has two types of signals that, when a danger is detected in the rear or front part of the car, indicate a possible obstacle and distance to it.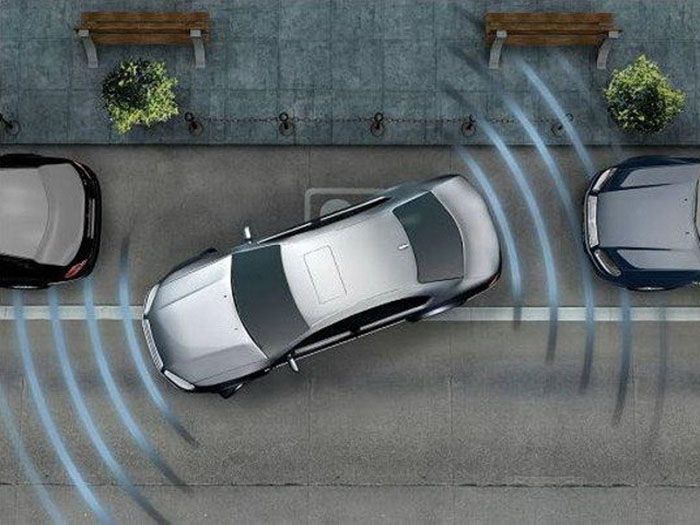 In addition to these types of parking systems, we also distinguish between wireless, electromagnetic and ultrasound.
Innovative solutions for parktronic production
Many drivers now prefer to buy and install wireless equipment. It is compact and easy to use use, and also with installed, you don't need to lead wires. These parking radars operate on a radio frequency channel that connects the sensors to the system.
You can mount similar sensors in the same way as ordinary ones-by drilling small holes in the rear or front bumper, or you can also fix them in on the license plate. However, in the latter case, which is simpler and fast, decreases the viewing angle and the coverage area of ​​the monitoring space, which thus reduces the efficiency of the parking sensors.
There are also ultrasonic and electromagnetic parking systems. The former are extremely sensitive, they are installed after drilling the required number of holes on the bumper corresponding to the number of sensors that each individual device is equipped with. The latter are made in a ribbon that creates an electromagnetic field that can detect dangerous or unknown objects near the vehicle. This tape is mounted on the inside of the bumper, so it will be extremely difficult to detect it.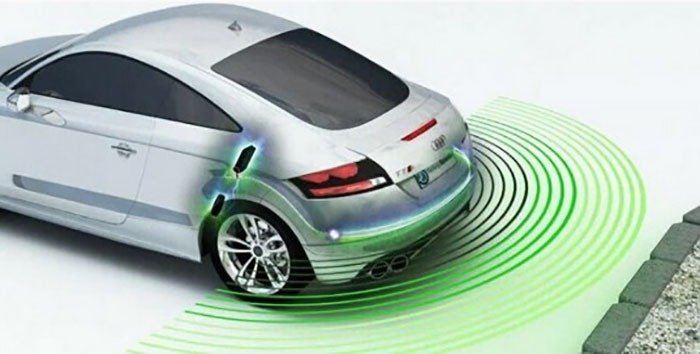 "Pros" and "Cons" of installing parking radar
Like any other equipment, Parktronic has some advantages and drawbacks, while the there are more positive things than negative ones.
Easy to install, not Professional help required.
Ability to work at any temperature, from -35 to +50 degrees.
Assist with parking time, making it quicker and safe.
Providing safe movement on a narrow road.
Resistance to external effects-dirt, dust.
Some devices are equipped with the option of self-diagnosis of sensors for malfunctions, this saves the car owner from having to carry out this procedure on his own, and also provides more accurate information about the presence of obstacles. In addition, electromagnetic models of devices have a separate advantage, and namely, the lack of need for drilling the rear bumper to install sensors.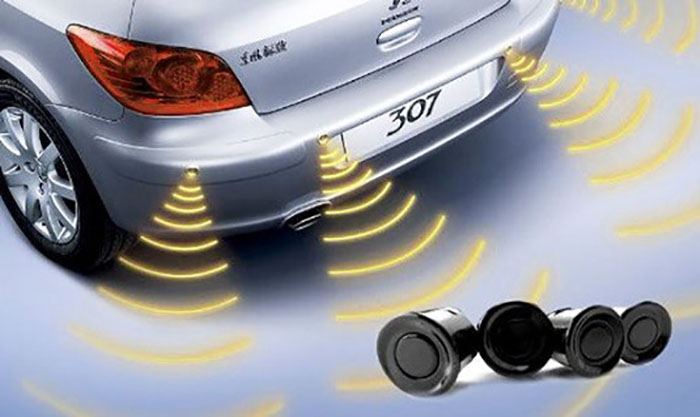 Among the shortcomings that are minor, they can even be attributed to some features of the use of parking radar include:
1. ice crust or snow may appear on the sensors in the winter, and a thick layer of dust in the summer may cause the sensor to fail or transmit incorrect information about the obstacle from it. Therefore, you should regularly check the sensors for visual inspection;
2. driving over rough terrain can lead to sensor transmission of incorrect information about obstacles. Therefore, in order to avoid such failures, one should carefully and slowly drive through such sections of the road;
3. some parking sensors have a low viewing angle, which makes parking difficult in particularly difficult conditions. Therefore, when choosing such a device, you need to take this moment into account.
So, it can be concluded that parking radar in an car is extremely necessary. This equipment will not only make parking faster and simple, and also protect against falling onto curb, stone or other object. Thus, additional financial losses or unpleasant situations during parking or reversing are completely excluded.
A huge range of different models of parking devices can be found on our website. Here are the models for installation in both the rear and front of the car, and also the combined systems. You can buy Parktronics with delivery to Kiev, Odessa, Kharkov and all over Ukraine on 130.com.ua.
Materials on the topic