Overview of automotive Gazer HR100 monitors and Gazer HR250
The range of automotive gadgets on Gazer brand recently expanded to devices for the rear passengers. The company introduced two new products: the automotive Gazer HR100 monitors and Gazer HR250, which are designed to ensure passenger comfort during long journeys. They are characterized by good functionality, clear picture and carefully thought-out design and management system that provides maximum comfort during operation. Let's take a closer look at the features and capabilities of the two new products.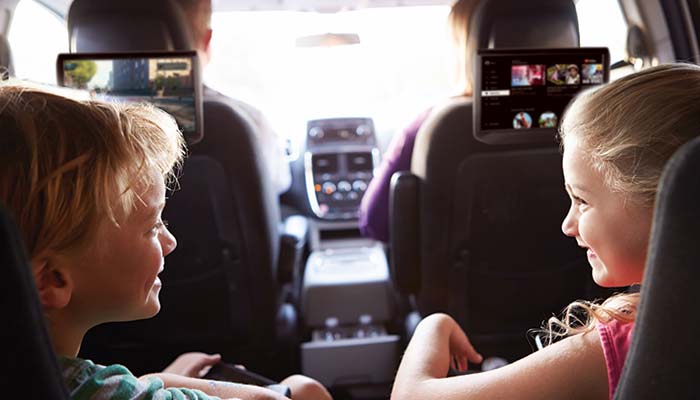 Features Monitor Gazer HR100
Gazer HR100 – Universal rear monitor designed for installation in a vehicle. The apparatus has a relatively large display 11.6 inches, the image quality is very high with the permission of Full HD (1920x1080 pixels), and the use of modern IPS matrix. no glare screen does not change color when the angle of viewing and illumination level. On this screen the whole trip passengers can enjoy your favorite movies or cartoons, it is especially pleasant to children.
Installation
Monitor Gazer HR100 is installed using a special universal mounting on the headrest, as a result he is in front of the passenger sitting in the back seat. For connection it will be necessary to lay special wires that connect the device to the vehicle's on-board radio and network. All you need for installation is already included in the monitor packaging
.
In the management and configuration of the monitor is very simple. In the upper part of the housing for this special buttons are provided, as well as the included compact remote control
.
Duplicate content
One of the useful features that extend the capabilities of the device and makes its operation very convenient, is the ability to duplicate content with the car. That is, passengers will be able to not only view video from an external source, but also get unlimited access to modern multimedia systems.
And since radio Gazer can work with a variety of applications, allow to access the internet through the browser, open the page in Instagram, Tik-Tok, and other social networks, view videos on YouTube and watch a variety of movies online, then the output all this on the back of the monitor, the driver can provide passengers with the same access to any desired entertainment content.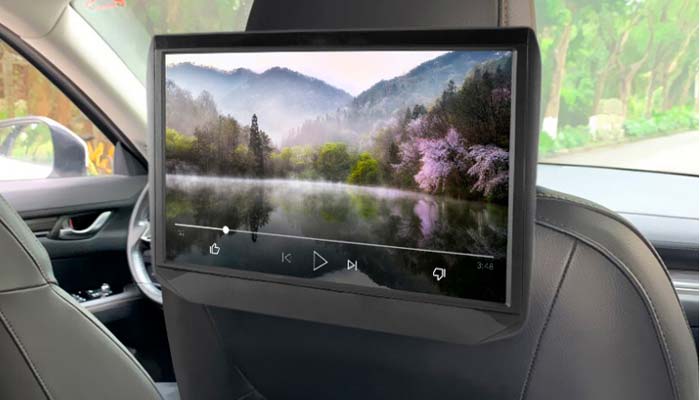 Full set of connectors for connecting external devices
Gazer HR100 is equipped with all the necessary inputs/outputs for connecting a variety of media and external devices. In particular there is:
USB input — standard connector for external storage. The monitor supports the majority of popular audio and video formats.
Mini Jack — This connector is required to connect to the monitor, wired headphones, as well as some analog video sources.
HDMI — provides connection of external digital video source. The maximum resolution of the video channel is Full HD
.
RCA — This connector is needed to connect an external analog video using a special cable RCA.
Options:
Monitor;
Flexible placement;
The power cable for connecting to the onboard vehicle network;
The power cable for connection to the cigarette lighter;
The remote control.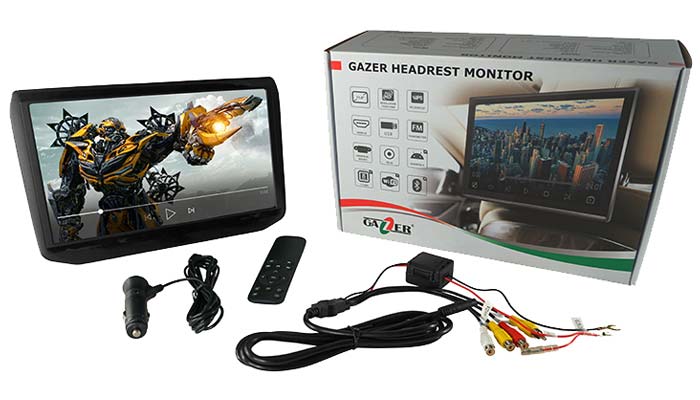 Features Monitor Gazer HR250
Gazer HR250 – it is not just car monitor, it is already a full-fledged tablet, which runs on the Android operating system. Only it is not necessary to hold in their hands, it is conveniently attached to the headrest of the front seat. As in the first model, the display has a diagonal of 11.6 inches, IPS matrix and shows a qualitative picture permission Full HD (1920x1080 pixels). in any weather and at any illumination clear picture is not changed depending on the angle of inclination. Additionally, there is an anti-reflective coating.
The display is equipped with a capacitive sensor with a multi-touch, which provides easy operation, the screen responds quickly to commands and executes them without delay. That is very easy to manage all features and applications, including to play games.
This is a more functional model, compared to the first, this monitor is very user opens opportunities. It's a real multimedia center with built-in Wi-Fi and Bluetooth, which provides virtually unlimited opportunities for passenger entertainment. The model will appeal to both adults and children.
Installation
With the installation of Gazer HR250 monitor the driver did not have any problems, as the producer all be carefully considered. The package includes all necessary wiring, as well as a special universal mount, which allows you to secure the device on the front head restraints. In this case, the screen is optimally positioned directly in front of the rear passengers.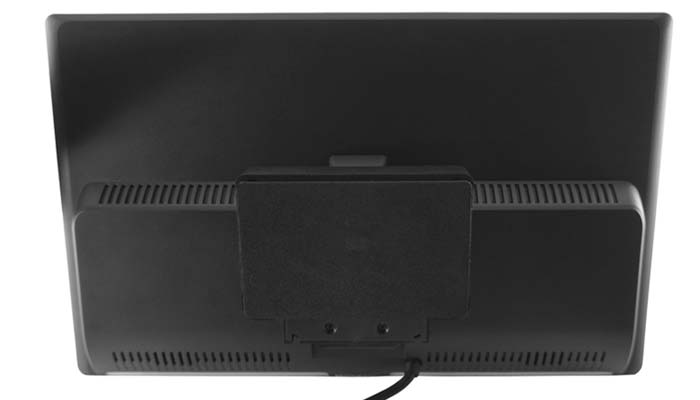 Powerful tablet
Due to the fact that the device runs on the Android OS 9, achieved maximum comfort and speed. This platform is quite popular, allowing you to play games, watch videos, send and receive emails, download and install a variety of applications, etc.
The advantage is the automatic update system, separately something to download and install itself is not required.
As for the iron, the hardware consists of:
a powerful 8-core processor that can quickly process data even when the simultaneous operation of multiple applications.
2 GB of RAM.
16 GB of internal memory, which is enough to install the various applications or recording video.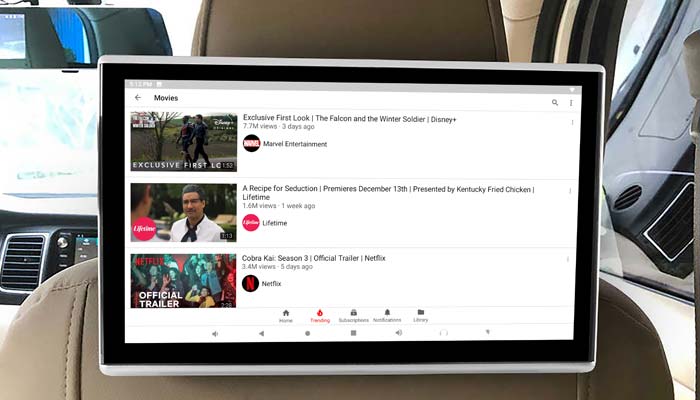 WI-FI and Bluetooth
Gazer HR250 got a built-in Wi-Fi-module, which provides quick and easy connection to the Internet. The access point may be a USB-modem or smartphone with 3G/4G. Once connected to the network, the back seat passenger can watch a variety of online videos and movies on YouTube or other services, social networks read, browse any website in your browser, and more.
The presence of Bluetooth connectivity allows wireless connection to various peripherals. For example, the monitor, you can connect a wireless headset or even a gamepad. Very convenient that the first connecting devices are added to a special list of trusted devices and then their connection is a fully automatic mode.
Google Play
Due to the fact that users have access to the Google Play Store app, they can choose any fun for yourself, download the game, a social networking application, access the news feeds of known and popular publications, navigation software, and more. Here everyone can find for themselves that will help brighten up a long journey in the car.
In the free access to Google Play there are a huge number of free applications for all tastes as the entertainment and applications, which will allow to spend time on the road as a happy and usefully.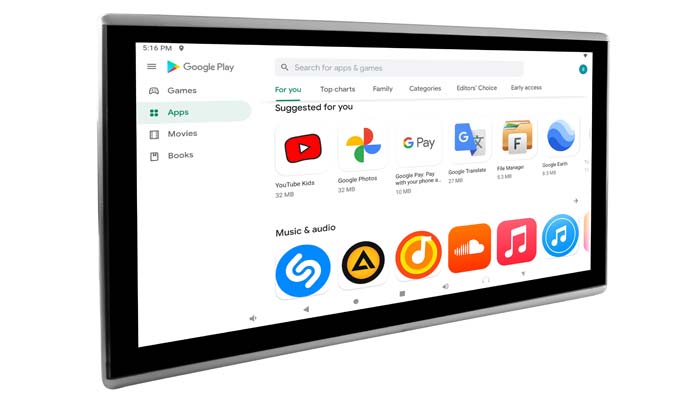 Full set of connectors for connecting external devices
Monitor Gazer HR250 is also equipped with all the necessary inputs/outputs for connecting a variety of media and external devices. In particular there is:
card slot to connect memory format micro SD.
USB connector through which to easily connect a variety of external devices: flash drives, hard drives, TV tuners, and many other equipment
.
HDMI — connector, which allows you to connect to a monitor external digital video source. The maximum resolution of the video channel is Full HD
.
Mini Jack (3,5 mm) is used to connect headphones or analog video and audio sources.
RCA — connector, which connect external analog video sources using a special cable RCA.
Options
Monitor;
Flexible placement;
The cable that connects the device to the car.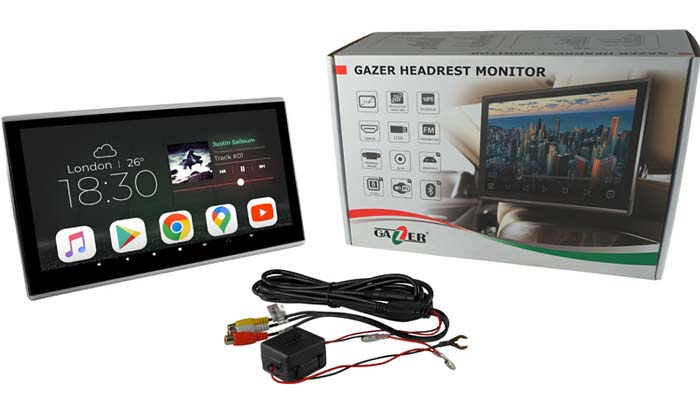 Summing up
Both monitors are the same size and display high quality images. They can be installed in any vehicle thanks to a special universal fastening. With sleek modern design, a passenger monitor easily fit into the interior of any interior. At the same time, it is obvious that these models are also significant differences.
Gazer HR100 – it is more affordable option that is perfect for family trips to the countryside. This monitor will entertain passengers on a long journey. Children will not cry and capricious, and therefore will not distract the driver. It is very convenient and useful accessory. Manage the system extremely easy using the buttons on the body or using the remote control.
Gazer HR250 — more sophisticated and expensive model with more features and the Android operating system 9. This is a full multimedia center that can replace a full-fledged tablet. Its advantage is that the monitor can be used not only for watching videos, but also to work in a way as it can be easily connected to the Internet and gives access to a very wide range of functions. In terms of management, here too, everything is simple and carefully thought out. This model has a screen with a sensitive sensor that provides the most simple speed control.
That is, if you want to just watch the road favorite videos and entertain children or other passengers, then it will be sufficient to establish Gazer HR100. If you need modern technology with access to the World Wide Web and a good performance, it is better to give preference to models Gazer HR250.
In the online store you can 130.com.ua buy monitors Gazer in Kiev, Kharkov and Odessa delivery of Ukraine.
related materials