We remind you: from October 1, you must travel outside the city during the day with the light on
In Ukraine, according to clause 9.8 of the Rules of the Road, from October 1 to May 1, all vehicles moving outside settlements are required to turn on daytime running lights, and if they are not there, dipped headlights. This rule is binding and applies to all types of vehicles traveling on roads in the daytime.
For non-compliance with this requirement, a fine of 425 UAH is foreseen!
Why is it necessary to use DRL?
Such requirements in traffic rules are due to the need to improve safety on the roads of Ukraine, since the headlights help make the car more visible in the autumn-winter period, when visibility can be limited due to rain, fog, snowfall and other adverse weather conditions. Since cars often travel outside the settlements at a considerable speed, the included DRLs enable oncoming drivers to see the vehicle on the road in time, respond to it and avoid accidents.
It is worth saying that such a rule-to include lighting in the daytime-has long been accepted in many countries. For example, their use is mandatory on all cars in Europe since 2011, and in Sweden since 1977, in Canada DRLs have been used by drivers since 1989. In recent years, statistics show that this has a positive effect on the number of accidents-they became noticeably smaller.
The main purpose of daytime running lights (DRL is the international abbreviation for DRL) is the identification of a car on the road in the daytime. They are passive safety features and cannot be used as sources of head light. All DRLs are equipped with a diffuser so that the generated light beam is distributed evenly without creating glare and without interfering with oncoming vehicles. Typically, such headlights have a cool white light, which makes them noticeable in any weather, their light is able to pass through fog and a wall of rain.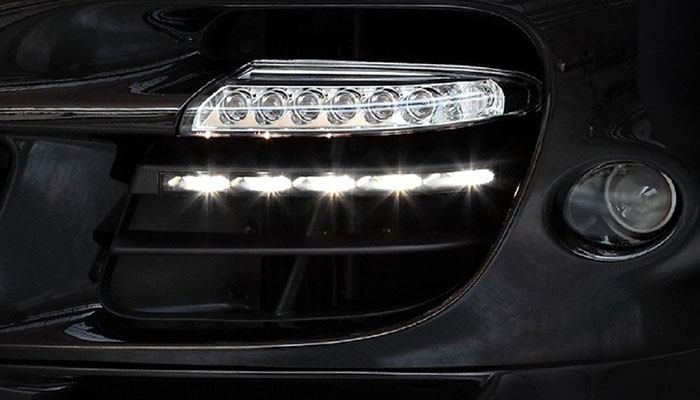 Do not confuse DRL with side lights. Dimensions are installed at the extreme permissible points of the bumper of the car and are designed to demonstrate the dimensions of the vehicle. In addition, the headlights shine quite muffled, so they are not intended for use while driving.
How does the use of dipped beam instead of daytime running lights affect the headlamps?
According to the requirements of traffic rules, it is possible to use low beam headlights as an alternative to DRL. With prolonged use of headlights instead of running lights, the resource of automotive lamps and the optics of the headlight itself is reduced. Therefore, the choice must be approached very carefully, otherwise you will have to change bulbs very often. Remember that the installed car lamps must be of high quality and suitable for the used headlights. If, for example, you install heavy-duty halogen lamps of an unknown Chinese manufacturer, this often causes the headlight reflector to fail. Therefore, it is recommended to use only branded lamps that have a long life, do not overheat, which means they will not harm the headlights.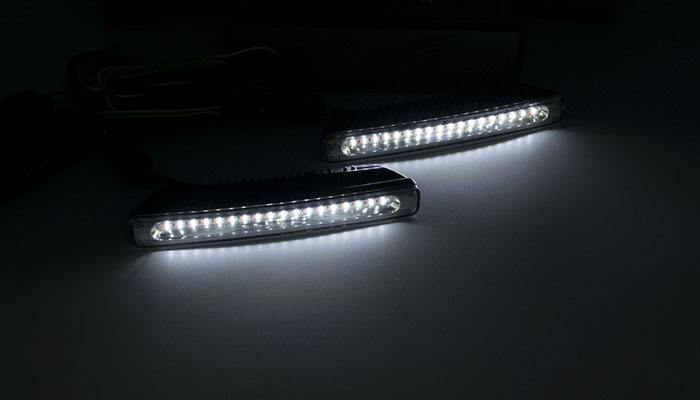 Best daytime running lamp manufacturers
Nowadays, many companies produce daytime running lights. However, there are several key leaders whose products are in high demand due to their high quality and reliability. We would like to mention three main brands that offer DRLs with excellent functional and performance indicators.
Osram
This is a well-known company that produces a wide variety of automotive lighting equipment. This brand is famous for its excellent design solutions and the efficiency of its headlights. Osram, creating its optics, uses unique technologies. Their headlights use modern high-class LEDs that allow you to get a bright glow, while they do not blind oncoming drivers.
If we consider a specific model, we can distinguish:
Daytime Running Lights OSRAM LEDriving LG (DRL 102).
This model has an ultra compact design, the headlights are designed so that they can easily be placed even in a very narrow grille. They are easy to install and suitable for cars of various brands. These navigation lights are based on the highly efficient OSRAM OSLON MX branded diodes, which guarantee high brightness and high brightness. A wide viewing angle when driving in any weather, which significantly increases driving safety. Power 8W, light temperature 6000K. Thanks to the IP67 protection class, they are not afraid of exposure to dirt and moisture.
Philips
This is one of the largest manufacturers of automotive lamps and car lighting products. Philips offers a very large selection of different types of daytime running lights that are compatible with different brands of cars. Installing DRLs of this brand is usually very easy and does not require the intervention of a master, since you can choose a model taking into account the characteristics of different cars and install lights in regular places without problems. DRLs of this brand are made of high quality materials, they do not heat and give out bright white light.
Of the specific models can be distinguished:
Philips LED DayLight 9 daytime running lights
These running lights provide good road lighting during daylight hours. They include 9 LED elements that allow you to increase the angle of illumination, while maintaining the power of the emitted light. The power of this model is 8W, and the light temperature is 6000K.
Thanks to a special flexible installation system, these modules can be installed at an angle of +/- 2 degrees in the vertical position and +/- 40 degrees in the horizontal. This model has a moisture resistant and shockproof housing. In addition, they provide additional protection of elements from corrosion. The control unit is equipped with an intelligent electronic system, this ensures the possibility of compatibility of DRL data with any type of car: from cars with a start-stop system to modern electric cars.
Hella
A popular German brand that offers high-quality daytime running lights, which are rightfully considered one of the most durable on the market. The range of Hella is quite large and allows you to choose a DRL kit that is ideal for your car. At the heart of all the running lights of this brand are LEDs that produce a bright glow that makes the car more visible on the road, but does not blind drivers of cars that drive along the oncoming lane.
Among the popular models include:
Hella LEDay Flex (2PT 980 789-861)
DRLs of this design can be used for installation on a variety of vehicles. This model consists of 6 flexibly connected rectangular LED modules. During installation, thanks to various mounting options, the garland can be adjusted to the contours of the machine.
These daytime lights look very original. The patented original design of the DRL series LEDayFlex with separate modules gives car owners ample opportunity to emphasize the individuality of their cars. Each individual module has a rectangular shape and consists of two LEDs. The case is characterized by high strength and durability. Thanks to the integrated optics, optimal light distribution is ensured.
If you want to buy daytime running lights for a car in Kiev, Kharkov or Odessa, you can do it in the store 130.com.ua. In our catalog you will find a variety of models from leading manufacturers at very competitive prices.
TOP 3 daytime running lights
Materials on the topic