A necessary thing for every car owner is a set of motorist
Road safety is important for every driver, especially during the cold season. Therefore, it should be ensured by every car owner, providing the vehicle with everything necessary-changing the tires, passing a complete system diagnostics and replacing fluids from the summer to the winter version. However, emergencies and other incidents are sometimes difficult to prevent, so a special set of motorists will be an indispensable assistant in this situation.
What is this kit?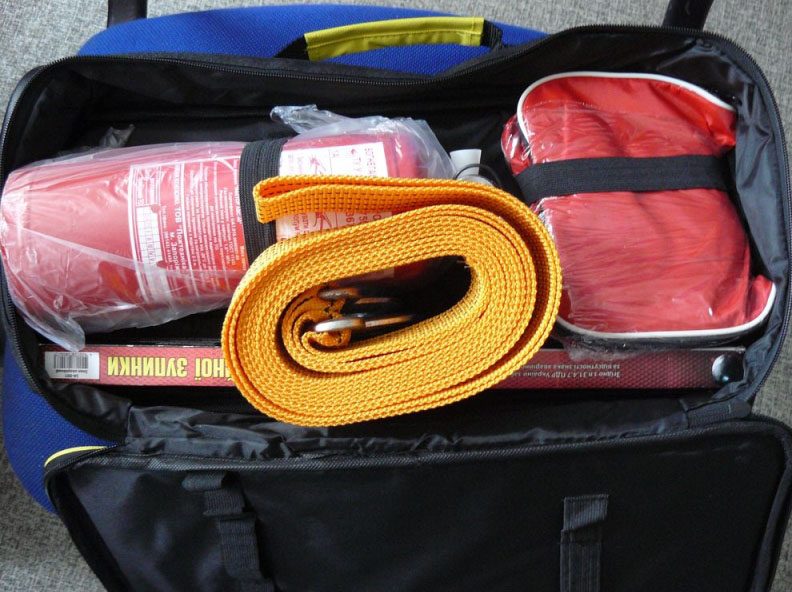 The package of this set includes many different car accessories and devices that will help provide first aid or help in an unpleasant situation on the road to your car or other vehicles that have fallen into this situation on the road. In addition, it is important to bear in mind that the presence of such a set is mandatory in each car, this is stated in the rules of the road. Violation of this paragraph is accompanied by warnings and fines, in case you find out the absence of the important auto accessories of which this kit consists.
The main part of the set includes:
fire extinguisher;
first aid kit;
warning triangle;
towing cable.
All elements, except the last, are necessary attributes in each car. Their presence helps to ensure confidence and greater safety during the trip at any time of the year.
Varieties and features of a complete set of sets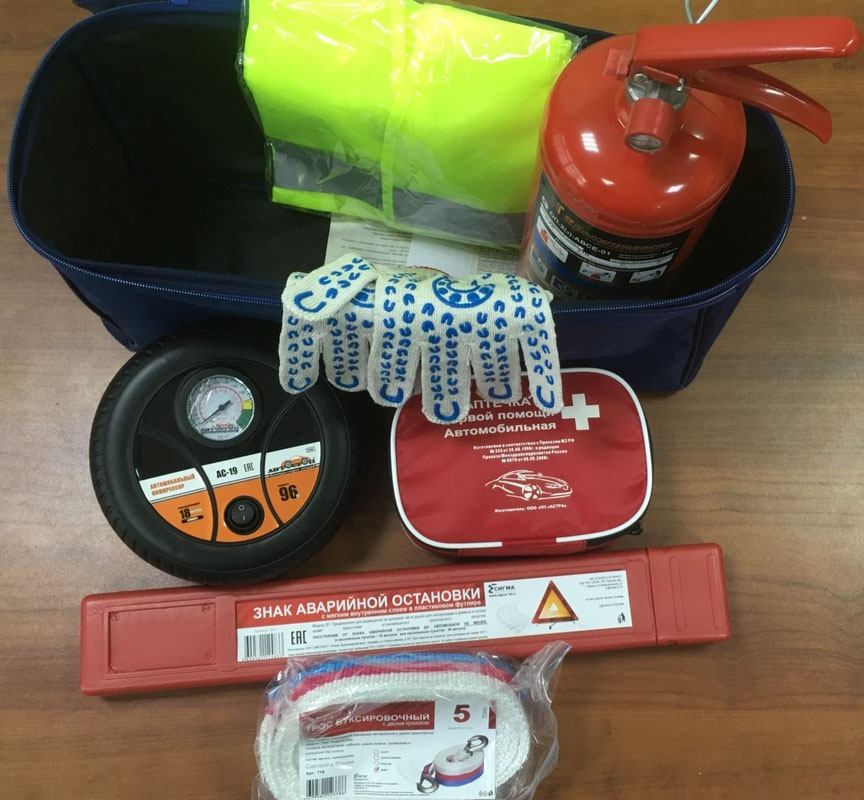 There are several possible complete sets, differing in volume and, accordingly, in cost.
1. The first, basic, set includes a sign of an accident, a towing cable, a first aid kit and a fire extinguisher.
2. The second, in addition to the above accessories, includes gloves and a vest with light-reflecting elements.
3. The third set consists of elements of the second set, which are complemented by some functional devices: compressor, sealant, starting wires.
The composition of the first set is mandatory, since each of these elements can be useful on the road. Additional elements of the second and third sets are also considered to be no less necessary, since they can help in solving important problems, for example:
gloves-in carrying out minor repairs or inspection of cars, will help not to get dirty;
starting wires-when discharging, the battery will help start cars on the road;
compressor-for inflating tires, checking pressure levels in them.
Additionally, a car owner can complete his set by selecting the items he needs. This could be a jack, a wheel stop, a canister, wet wipes or water for washing hands and other needs, other car accessories.
What complements the set of motorists in the winter?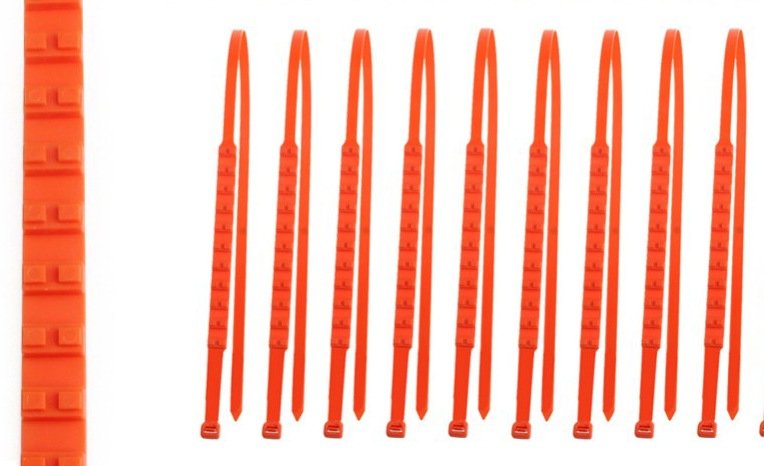 In winter, it is especially important to have this kit in the trunk for a car, because roads are more unsafe in winter: constant snowfall, ice and mud that occurs during snow melting. Therefore, to buy a set of motorists, if it is not in the car, it is extremely necessary. In this case, standard equipment is often supplemented with such accessories:
1. anti-skid chains (bracelets or belts);
2. snow shovel;
3. brush for cleaning glass from snow, with a scraper;
4. special liquid for glass washer.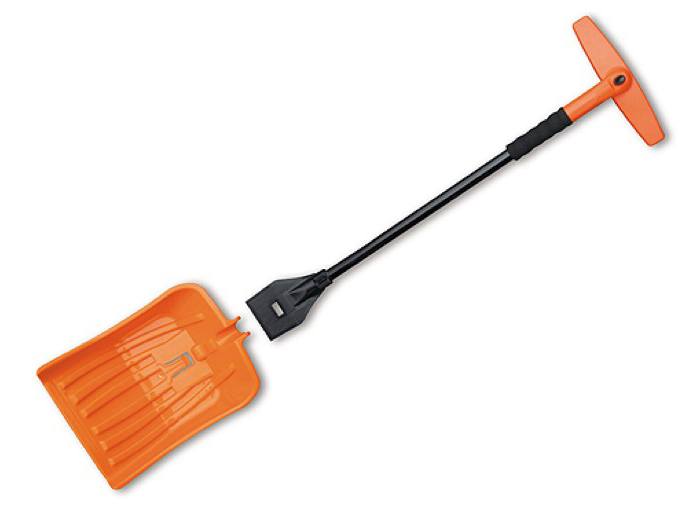 In winter, a towing cable is also a mandatory element of this set, with which you can help pull a car out of a snowdrift or assist in another similar situation.
Not less than the necessary substance for the owners of vehicles operating on diesel will be diesel antigel. It is needed to prevent paraffin from crystallizing during fuel filling at a gas station, which, as a result, can turn a car into an immovable object. This antigel additive will help to break the paraffin in the filter and not worry about the subsequent travel time.
Thus, the need to purchase a set for a motorist is more than obvious. Its presence ensures safety and confidence on the road at any time of the year. And, choosing the best option, you can fully equip your vehicle.
By visiting our site, everyone will be able to pick up the necessary set of motorists based on personal preferences, choosing a universal or special option. Also in other sections of the catalog, you can pick up additional elements for the possibility of retrofitting the selected set to ensure greater safety in winter. you can buy motorist sets in Odessa, Kharkov and Kiev at 130.com.ua with delivery in Ukraine.
Materials on the topic