Choosing the best tool kit for your car
All craftsmen know that high-quality repairs are not possible without a good set of tools. It must necessarily be not only among service workers and professional craftsmen, ordinary motorists can not do without a quality tool. If at hand there is a treasured suitcase with tools for auto repair, then at any time you can independently carry out minor repairs and not spend money on a visit to a service station. If you want to purchase tools, it is important to choose the best equipment so that it has everything you need. The make and model of the machine, the country of manufacture directly affects the type and size of the required tool. Let's look at what a perfect set of automotive tools should be.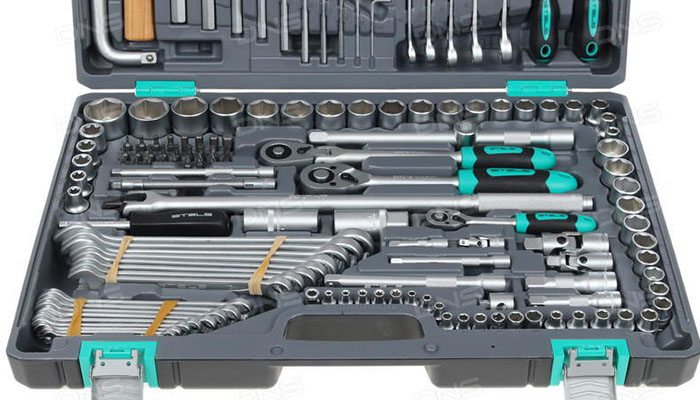 What should be the best set of automotive tools
Buying tools for a car separately is not the best option. Obviously, a pair of keys is not enough for repair work. That is why it is best to give preference to sets in which everything is usually carefully thought out, and there are different elements that may be needed. However, not always the largest set will be the best. Always carefully study the equipment and your needs, if half of the tool in the set you do not need or do not fit, then no need to overpay.
All tools can be divided into 2 classes:
Between themselves, they differ not only in the number of units in the kit, but also in the material of manufacture, as well as in the case in which the tools are stored and transported.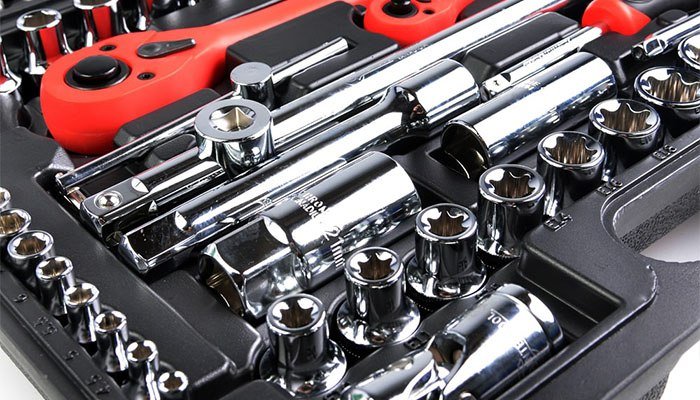 If you have to use the tool regularly at the service station, there's nothing to think about-take a professional tool kit. For a small ongoing garage repair, a household kit is also suitable. The situation is similar when choosing tools for the home. As for the price, everything is obvious, the more units in the set and the higher their characteristics, the kit will be more expensive. That is why, before buying, decide in advance what you need and for which tasks this tool will be used.
How to choose a toolbox?
If you want to choose the optimal set of tools, then when choosing it is worth considering several important criteria.
1. Options
Everything here is clearly defined by the purpose of further use. The set of tools for repairing and servicing a car necessarily contains a set of socket heads of the right size and ratchets of different sizes, combination keys, a cylinder key, various adapters, wrenches and extension cords.
The set of plumbing must have an adjustable wrench, a tool for threading, keys of all basic sizes, and more. If the tool will be used to mount electrical wiring and equipment, then it cannot do without an indicator screwdriver, cable scissors, a knife for stripping cables, etc.
For household repairs, you will need a set of screwdrivers and bits, a hammer, a hacksaw, tape measure, pliers, pliers and other articulated-lip tools.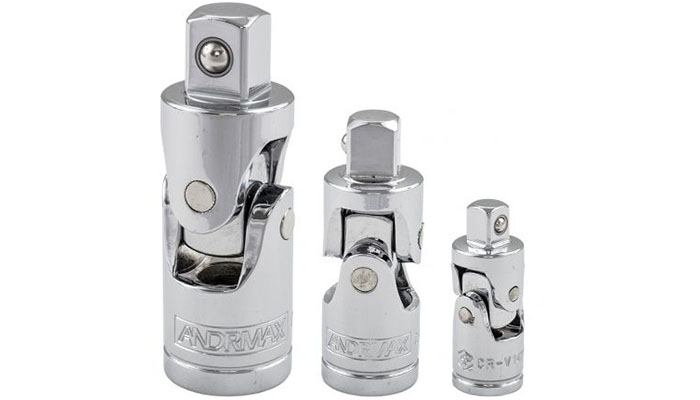 2. Dimensions
The dimensions of the socket heads, bits and other components must be selected taking into account the type of work and the brand of the car. For trucks, for example, powerful ratchets and large impact heads, power wrenches, etc. are required. Be sure to take into account not only the size of the head itself, but also the size of the connecting square, the most common and popular when repairing cars are 1/2 ", 1/4" and 3/8 "heads.
3. Tool Quality
The quality of tools is determined by several factors:
material from which all elements in the set are made;
resistance to metal corrosion;
load resistance;
ergonomic handles and the use of rubberized coatings;
good fixation of the tool in the seats;
the quality of the connection of metal, rubber or plastic elements with each other;
packaging.
These characteristics directly affect not only the cost of the tool kit, but also its service life, functionality, usability and safety in work.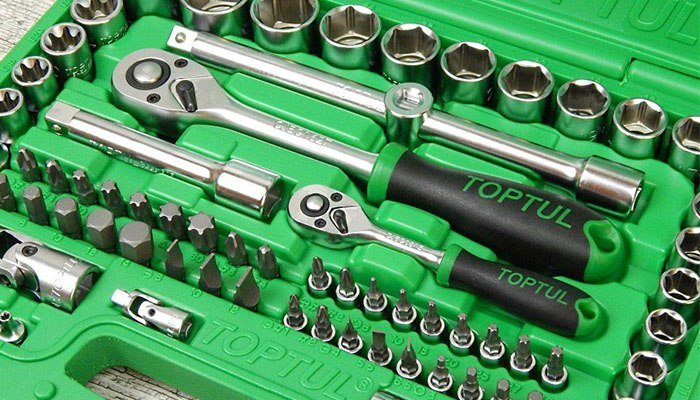 For example, if low quality materials were used in the manufacture, it is very likely that the coating will quickly become rusted and it will be impossible to use keys and heads. If the handles are not comfortable, without a rubberized coating, the tool can slip out of the hand during operation, which often leads to personal injury or damage to vehicle parts.
4. Case Quality and Material
Tool packaging is a very important issue that should be paid special attention to when choosing. After all, then somewhere all these components, many of which are very small, will have to be stored. Now most often you can find toolboxes in cases. It is very convenient and practical, the main thing is that the case is durable, since it will take more than one year to use it, and then it will be troublesome to search for a replacement.
Cases are different:
a simple case in the form of a suitcase made of high impact plastic;
reinforced case-in this case it has special metal pads on the corners;
a metal case is the most durable option, but it weighs quite a lot, carrying a large set in the car may not be very convenient, but you can store tools in it in the garage.
Also, storing the tool in such a suitcase provides convenient transportation, it easily fits in the trunk of a car, and does not take up much space. Moreover, all components of the set are in place and are reliably protected from loss and mechanical damage.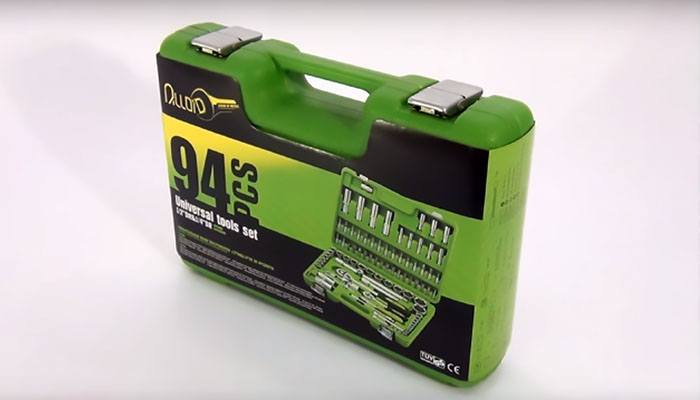 To summarize
So, if you still decide to buy a tool kit in a suitcase, then decide in advance on its configuration. You need to know exactly which elements you will need in order not to overpay for unnecessary ones.
Be sure to ask what material the tool is made of. One of the most reliable and durable are car tools and socket heads made of chrome vanadium steel. They are one of the most expensive. But do not chase cheapness if you do not want to regret the purchase after a few months, when rust appears on the surface of the tool, or some heads are deformed, unable to withstand the load. You take tools to use them for a long time, so you should not save on the quality of materials.
To make the tool convenient to use, it is recommended to choose a kit in which there is a corrugated or rubberized coating on the handles of ratchets, screwdrivers and other tools.
You can buy a set of automotive tools in Kiev, Kharkov or Odessa in our online store 130.com.ua.