Best mini pressure washers
Minisink - a tool that can facilitate the process of washing any dirty items (cars, trucks, garden equipment and paths, walls, roofs, porches and stops of public transport). They are convenient and practical. Minisinks have a number of advantages:
reduce water consumption;
create high pressure, which makes the process more efficient;
Convert the chemical cleaning solution into foam;
reduce the time for the washing process.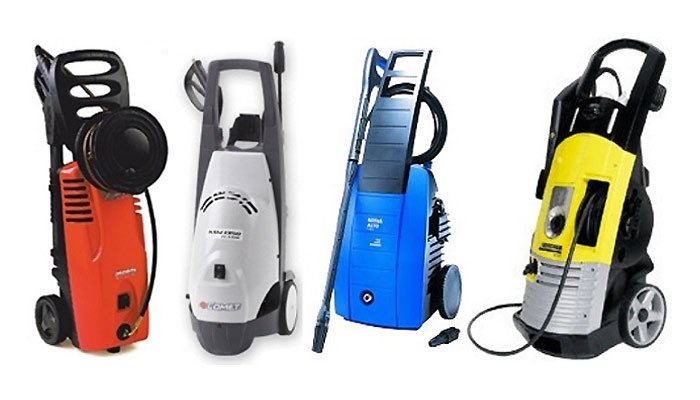 Modern manufacturers of such equipment offer a variety of devices for high-pressure washing, each of which has its own unique characteristics and features. When choosing a high pressure washer, you should carefully study the advantages of a particular model in order to get a good helper. Let's look at the most popular and sought-after models. Everything can be divided into two large groups: domestic and semi-professional.
Domestic minisinks
Devices of this type are small in size and power, they are designed for washing cars, motorcycles, bicycles, garden furniture and other small items.
1. Karcher K 3
This is a great home minisink from a famous German brand. The peculiarity of this model is that it is inexpensive and productive. Suitable for washing small cars, motorcycles, etc.
This model has a maximum pressure of 120 Bar, which, together with a 1.6 kW engine, allows pumping of 380 l/h. Minisink itself is small in size and light in weight.
The pump is plastic, that is, it will not be able to provide long-term use. During operation, it is recommended to take breaks according to the instructions from the manufacturer, and then the device will serve for a long time without breakdowns. The engine has an air cooling system using a special fan, the handle is retractable, during storage and transportation of the sink it easily hides in the case, which reduces the size of the device. Please note that it is possible to connect only to the water supply system, there is no water tank, this somewhat limits the possibility of using this model. But this minor flaw does not prevent the device from being one of the most popular and in demand on the market, as it is characterized by stable and reliable operation without failures.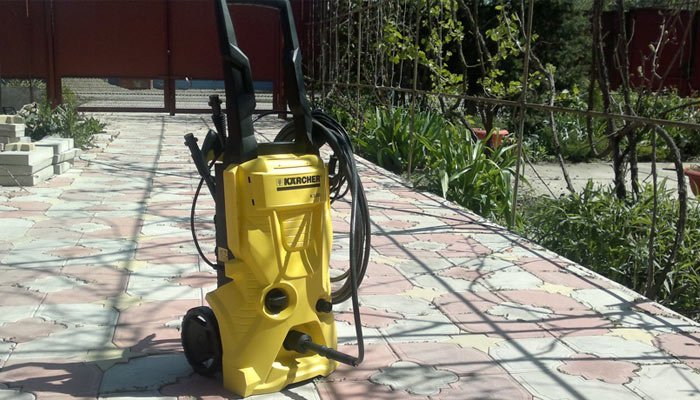 + Pros:
The presence of 3 modes of water supply, including washing with chemistry;
Using Quick Connect to quickly attach a hose;
Reinforced design of the pressure pipe, water supply is carried out using German proprietary Vario Power technology;
The presence of a mud nozzle that is used to clean wheels and other heavily contaminated areas;
Built-in filter with very small cells, which protects the pump from dirt and various impurities in the water;
Robust housing design with special compartments for attaching and storing accessories and a hook for securing the power cord.
- Cons:
There is no way to draw water into the tank.
2. Makita HW102
This is a small model from a Japanese brand with a turbo nozzle. Despite its small size, this sink will be a great purchase for a garage or suburban area. With its help, you can easily wash: garden paths, terrace, walls and a passenger car. And it is convenient to carry it in your hands, since the device weighs very little.
This minisink uses a collector motor, an asynchronous type, which does not overheat. Thanks to this, the device can continuously work up to 25 minutes. This model has a mesh filter for the most delicate cleaning, which provides reliable protection against dust and dirt particles entering the pump. The pump itself is aluminum, it is reliable and durable, does not rust and does not crack. The kit includes all the necessary share of the nozzle.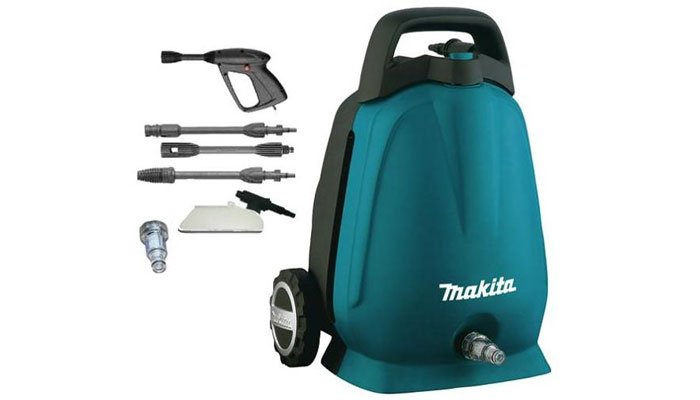 + Pros:
The presence of a spray nozzle with the ability to adjust the starting injection;
Very compact and lightweight - only 5 kg;
Durable hose made of high-quality thermoplastic, has a length of 5 meters;
Economy due to low water consumption and low energy consumption.
- Cons:
Low location of the handle for transportation. Some may find this uncomfortable.
3. Karcher K 5
This is another model from the German brand Karcher with excellent performance. This high pressure washer will allow washing not only cars, but also SUVs, trucks and even buses. It can be used in a country house for cleaning facades, garden paths, arbors, etc. This device is more expensive than its predecessors, but this is due to the best functionality and good performance.
The engine has a water cooling system that allows the device to work without interruption for up to 30 minutes. It is worth noting the presence of a special integrated into the body of the container for shampoo with a capacity of 1 liter. Once the composition is over, it is easy to replace it with a new one - no need to breed chemistry. The cast aluminum pump in a plastic housing has special niches and mounts for storing the power cord. There are wheels and a convenient pull-out handle that allows you to quickly transport the device from place to place. The hose is long enough, if necessary, you can connect an additional garden hose, this will increase the mobility of the sink.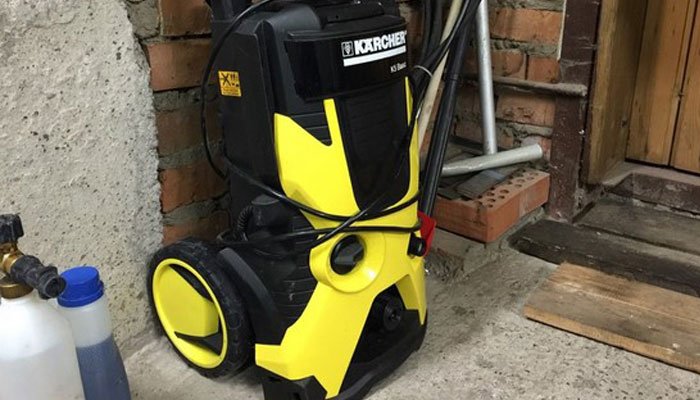 + Pros:
High engine performance and powerful water pressure;
Reliable engine with high-quality cooling system for longer operation;
The presence of a jet nozzle of the Vario Power type and a cutter to remove adhering dirt, which makes it easy to remove any degree of complexity from the surface of any machines and objects;
Built-in 1 liter detergent bottle;
Possibility to connect the device to the garden hose using the special adapter included in the package.
- Cons:
In the kit there is no special nozzle for foam, it must be bought separately.
Semi-professional minisinks
Semi-professional - these models have more power compared to the first group. They are suitable for washing any car, including large trucks and SUVs, they can easily cope with the cleaning of medium and large areas.
1. Oleo-Mac PW145C
This reliable mini-high pressure washer from the Italian company is practical and versatile. It provides good dirt removal even in hard to reach and heavily polluted areas. The sink is very easy to use.
The productivity of this model is quite large, reaching 480 l/h. It is equipped with a powerful 2.3 kW brush motor with air cooling system and overheat protection. Thanks to this, you can not be afraid that the electric motor will fail during prolonged use. The motor can withstand a fairly large load. Also, this minimoyka has a special Total Stop system, which provides an automatic engine stop within 5 seconds after releasing the trigger on the gun. And when you pull the trigger again, the device's engine automatically turns on.
Thanks to the presence of Easy Start technology, the possibility of a water hammer is excluded, so during washing you can direct the nozzle directly to the surface of the car. To facilitate the work and improve the quality of washing, the kit includes a special foam nozzle, it can work with various detergents. The device has relatively small dimensions and weight, and due to the presence of large rubberized wheels it is quite maneuverable and easy to transport. Special handles are also provided. The length of the pressure hose is 8 meters; there is a drum in the case for reeling in the hose, which makes it easy to store when the sink is not in use.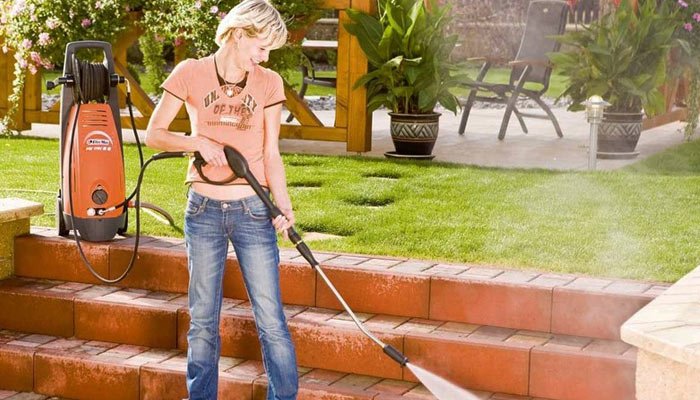 + Pros:
Enhanced turbine effect achieved through the Rotojet nozzle;
Ability to work with hot water, the maximum water temperature for this model is 60 degrees;
Working pressure is 145 bar;
The silumin pump has 3 steel pistons, it guarantees the durability of the structure, corrosion resistance and high strength.
- Cons:
It is not possible to take water from the tank.
2. Makita HW132
In this minimoyka from the famous Japanese manufacturer, a reasonable price and excellent build quality are ideally combined. This model received a powerful 2.1 kW engine, capable of delivering water at a speed of 420 l/h The maximum pressure is 140 bar. Also worth noting is the simplicity and ease of use. This device can easily cope with any kind of household cleaning, the power is easily enough for washing large-sized cars, for washing garden paths in a suburban area, and for washing carpets.
The device has double sheathed insulation for long life. And thanks to the use of a high-quality water filter, the pump is reliably protected from small particles and impurities from entering the water.
Minisink has a number of advantages over analogues, the main of which are convenient storage and ease of transportation. It is easy to transport it in the trunk of a car, and due to the fact that the case has a built-in hose reel, it will not hang out during storage and take up extra space.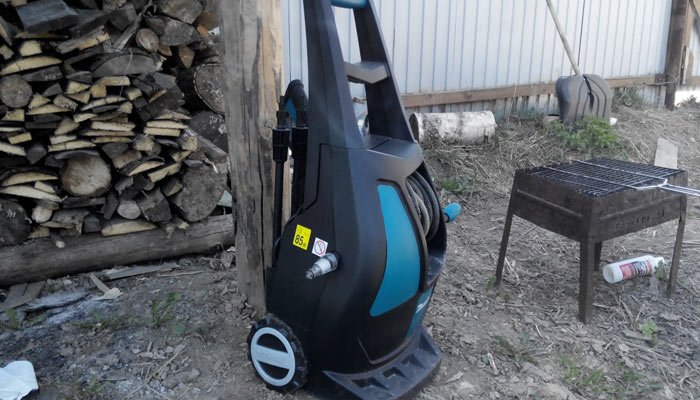 + Pros:
High power and speed;
Availability of an effective system for quick start and shutdown of the washing;
Adjustable nozzle with the function of adjusting the pressure level and spraying force;
Productive triplex pump equipped with a tilted disc.
- Cons:
For some, the location of the coil may be inconvenient.
All reviewed minimoys are distinguished by good performance and reliability. They are perfect for washing the car and removing dirt from various surfaces. You can also use them to disinfect your home, porch or surrounding area. They are simple and easy to use. With such an assistant, cleaning and washing the car will be quick and easy.
You can buy a high pressure washer in the online store 130.com.ua with delivery in Ukraine at the best prices.
Related Content