How to protect yourself from coronavirus in your own car
A personal car in the conditions of transport collapse and restrictions on movement by public transport, which was introduced in many cities of Ukraine, is a good way to avoid possible contacts with people who are potentially carriers of coronavirus. However, despite the fact that travel by car is potentially safer in an epidemic, the car dealership cannot be called 100% safe.
Suppose you are partially protected, but the car does not guarantee protection, as some potential danger factors remain. Therefore, the driver in an epidemic must adhere to strict rules of sanitary and epidemiological safety.
Salon disinfection: rules that everyone should follow
Cleaning a car's interior and disinfecting it is much easier than a bus, subway car or tram. Each motorist can easily do this on their own. Be sure to make sure that you have special disinfecting wipes in the inside of the car, preferably if they are alcohol-containing. If they are not, then you can use a handkerchief moistened with ordinary alcohol, which is sold in a pharmacy. Scientists have confirmed that this virus is afraid of soap, so you can remove it from surfaces using a concentrated soap solution.
Remember that the treatment must be carried out very carefully, since on metal surfaces, according to scientists, the virus can remain active for up to 12 hours!
There are several rules that you must follow:
When driving, be sure to sanitize your hands. To do this, you can use special antiseptic solutions or napkins.
Always disinfect in the cabin all objects and surfaces that are touched by the hands - both the driver and passengers. This applies to elements such as a steering wheel, seat belts, glove compartment lid, gearbox, door handles, radio, windows buttons, air conditioning buttons, etc. Do not forget about what is outside: door handles, a hatch and a gas tank stopper, a trunk opening handle, etc.
All interior elements, which constantly touch the hands of the driver and passengers should be regularly cleaned with special solutions, disinfectants or concentrated soap, it is best to use ordinary laundry soap.
Do not forget to process other items that you touch with your hands and bring with you into the car: smartphone, ignition key, bags, wallets, etc.
What else should you pay attention to protect yourself from the coronavirus?
During the epidemic, everyone should be as vigilant as possible. Remember that a great risk is borne by strangers, routes of travel and the circle of communication you can not track. Therefore, during this period, try not to put outsiders into your car.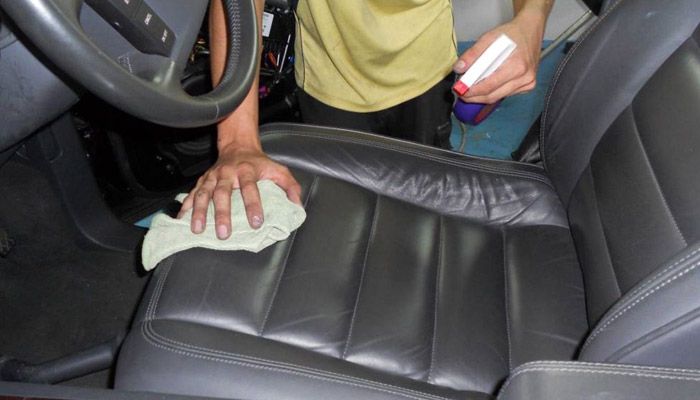 Note that cabin air filters do not trap the virus. However, do not worry much so that the virus from the street enters the car through the ventilation system, the infected person must cough or sneeze in the immediate vicinity of the air intake. That is, the risks here are not very great.
To reduce the likelihood of infection, it is also recommended to carry out regular ventilation of the cabin. To do this, you can fully open the windows on opposite sides while driving for about 15 to 20 seconds.
You should not think that the machine protects us from illness, it is better to take the position for yourself that it only helps us a little. And meanwhile, strictly adhere to the recommendations of medical specialists, without departing from them until the end of the dangerous period.
Related Content